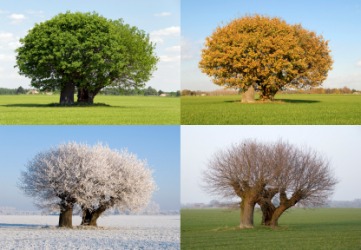 The capitalization of seasons has specific rules in the English language. When the seasons are used generally, they should not be capitalized; however, when seasons are used in a title, then the first letter should be capitalized.
Capitalization of Seasons
Rule 1: Seasons as Generic Nouns
Seasons, such as winter, spring, summer and fall, do not require capitalization because they are generic nouns. Some people may confuse these words as being proper nouns and try to capitalize them using that rule of capitalization.
The winter season allows for many snow related sports.
My favorite flowers bloom in the spring.
This summer's heat wave lasted over a month.
We often take long drives to look at autumn foliage.
Rule 2: Seasons as Titles
When a season is used in a title, the capitalization rule that applies to titles should be utilized. For example, in this sentence, "The Fall 2010 semester ends in December," Fall 2010 would be considered a title and therefore capitalized.
Exceptions to the Rules
One obvious exception to these two rules would be if the season were being used as the first word in a sentence. For example, "Summer time is my favorite time of year."
Another exception to the above rules would be for stylistic purposes in poetry if the season were to be personified. For example:
And Spring arose on the garden fair,
Like the Spirit of Love felt everywhere;
And each flower and herb on Earth's dark breast
Rose from the dreams of its wintry rest.
- An excerpt from "The Sensitive Plant" by Percy Bysshe Shelley