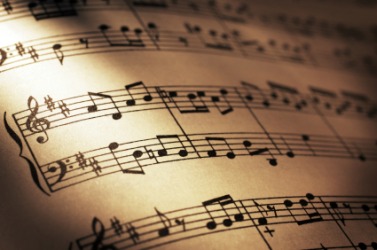 The capitalization of songs should be done similarly to capitalization of titles. To punctuate, the titles should be written with a double quote (" ") around it. Any punctuation that is part of the title such as commas, exclamation points or question marks, should also go inside the quotation marks.
Capitalization of Songs
Song titles work similarly to other titles when it comes to punctuation; although, song titles can have some special rules as well.
Rules
The first word and last word in the song's title should be capitalized.
All other nouns and active verbs should be capitalized.
Conjunctions (and, but, or), short prepositions (in, out, by, for, from) and articles (a, an, the) are not capitalized unless they belong to the first rule of being the first or last word in the title. For prepositions, words that are four or less letters should not be capitalized. Words that are five or more letters should be capitalized, such as across, among or beyond.
Some other short words should always be capitalized, such as also, as followed by a verb, be, if, than, that, thus and when.
Phrasal verbs also need to be capitalized. Phrasal verbs combine verbs and prepositions or adverbs into an idiomatic expression whose meaning differs from that of the actual definitions of the individual words used.
Examples of Phrasal Verbs
Beat Up
Call On
Come Back
Do Over
Fill In
Find Out
Hang Up
Leave Out
Put Off
Talk over
Try Out
Use Up
The capitalization of songs should be done properly when writing titles in essays or articles. Foreign language song titles should follow the capitalization rules of that language.