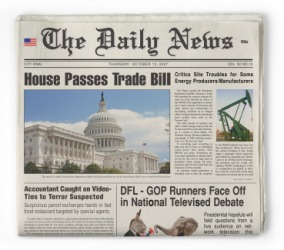 If you have a look at the title of this article you will see that some letters are capitalized and some are not. Hmmm. Although the capitalization of titles can sometimes depend on the particular style of a writer or publication, there are some general rules to remember. Titles are everywhere. Just take a look at your favorite books or the titles of your favorite blogs and websites. You will find many different ways writers choose to capitalize titles.
What's in a Title?
Why do we have titles anyway? In many respects we need them. Titles (also headings) serve many different functions. They attract readers' attention, help organize information, identify the main subject(s)/topic(s) of a particular text, and much more. For example, when choosing the title of this article, the main topic (capitalization of titles) helps readers with their online search to find articles just like this one. Also, you will see that there are several headings in this article, which contain specific information. This helps readers skim and scan the article for key information.
Capitalization Rules for Titles
The rules for capitalizing titles can vary according to a particular style guide, such as Associated Press Stylebook (AP), Chicago Manual of Style, and MLA style. They all have different rules for how to capitalize titles. So which one should you choose? Well, it all depends if a certain style is required by your teacher, course, or subject/field. For example, MLA style is commonly used in the liberal arts or humanities, while AP style is popularly used in journalism. One suggestion is to choose one style, or check the style required by your teacher, and stick to it.
General Rule: Title Case
As discussed there are some exceptions to the rule; however, here is one general rule that you can apply for capitalizing titles. Capitalize the first, last and any important words in a title, which is known as Title Case or Headline Style.
In Titles: Do Capitalize
Generally, these parts of speech are capitalized in titles.
Nouns (man, bus, book)
Adjectives (angry, lovely, small)
Verbs (run, eat, sleep)
Adverbs (slowly, quickly, quietly)
Pronouns (he, she, it)
Subordinating conjunctions (as, because, that)
In Titles: Do Not Capitalize
As you have probably noticed "small' words are generally lowercase in titles, unless they are the first or last words in a title. However, some title styles that do capitalize these words.
Generally, we do not capitalize:
Coordinating Conjunctions: and, but, or, for, nor, etc.
Prepositions (fewer than five letters): on, at, to, from, by, etc.
When in doubt and you do not have a reference guide in front of you, here is one general rule to remember recommended by The U.S. Government Printing Office Style Manual: "Capitalize all words in titles of publications and documents, except a, an, the, at, by, for, in, of, on, to, up, and, as, but, it, or, and nor."
More Title Capitalization Rules
I. Sentence Case
Some writers and publications choose to use sentence case for titles. Basically the title is written as if it is a sentence, with only the first letter capitalized (however, proper nouns within the title are capitalized).
For example:
Budget wedding invitations
Top 10 things to do in Paris
Best technology blogs
II. Advanced Rules
Here are some advanced rules for title capitalization:
Hyphenated compound words (High-Quality Web Services, First-Rate U.S. Lawyers, ) and open compounds (salad dressing, science fiction)
The first word following a colon (Feminine Poetry: Ten Women Writers from Around the Word)
Prepositions that belong to a phrasal verb (How to Back Up a Computer)
Final Note
If you are writing titles (or headings) for a school paper, it is recommended to choose one style for capitalizing titles and be consistent throughout.
Further, no matter your personal preference make sure that you write the exact titles of books, newspapers, journals, etc. as they are written (even if they do not follow common capitalization rules).
Resources