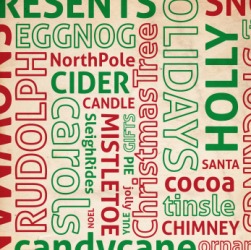 Christmas words scramble! We've got your Christmas words scramble! What kind of scramble are you looking for? You want words with the letters mixed up? We've got 'em. You want sentences about Christmas with the words in the wrong order? We've got those too. You want an idea for a game that involves students scrambling to put together Christmas words? Yes, we've also got that. Read on for your one-stop Christmas words scramble shop.
Christmas Words: Letter Scramble
Directions: Rearrange the letters to create 15 Christmas nouns.
lylho
eetilsmot
seuJs
gnrvreeee
lsdeacn
rete
pretenss
aStna lsuaC
wnso
nocigkts
dynca
pldohRu
ohtNr ePlo
srenoatmn
ltshig
Answers:
holly
mistletoe
Jesus
evergreen
candles
tree
presents
Santa Claus
snow
stocking
candy
Rudolph
North Pole
ornaments
lights
Christmas Sentence Scramble
Directions: Put the words in the correct order to make 10 sentences about Christmas.
the December is Christmas 25th on of .
decorate tree We Christmas with ornaments our lights and .
stockings candy Santa our and presents Claus fills with .
the is holiday Jesus Christmas the that birth Christian that of celebrates .
on dinner a Christmas We big have with family .
presents We on open morning Christmas .
Some their lights houses with people decorate .
red-nosed had Rudolph very nose a shiny reindeer the .
at Pole Santa the lives Claus North .
put tree the under presents We .
Answers:
Christmas is on the 25th of December.
We decorate our Christmas tree with ornaments and lights. OR We decorate our Christmas tree with lights and ornaments.
Santa Claus fills our stockings with candy and presents. OR Santa Claus fills our stockings with presents and candy.
Christmas is the Christian holiday that celebrates the birth of Jesus.
We have a big dinner with family on Christmas OR We have a big dinner on Christmas with family
We open presents on Christmas morning.
Some people decorate their houses with lights.
Rudolph the red-nosed reindeer had a very shiny nose.
Santa Claus lives at the North Pole.
We put presents under the tree.
Christmas Words Scramble Game
Make two sets of letter cards, each with the necessary letters to spell several Christmas words. Split your students into 2 teams, and distribute a set of letters evenly amongst each team. In a large class, each student may only get one letter; in a small class, they might get 3 letters each.
Call out a Christmas word, and the teams scramble to put their letters in the right order to spell it. The first team to spell the word correctly wins that round.
If you were to use the 15 Christmas nouns listed above, each set of letter cards would need the following letters in the stated amounts:
A - 2
C - 1
D - 1
E - 4
G - 1
H - 1
I - 1
J - 1
K - 1
L - 2
M - 1
N - 2
O - 2
P - 1
R - 2
S - 2
T - 2
U - 1
V - 1
W - 1
Y - 1
You can also play this way: Write 2 sets of 5 Christmas sentences on sentence strips. Then cut the strips apart. Give one set of sentences to one team and the other set to a 2nd team. The teams must work together to put the words in order to form correct sentences.
For an easier version, group the words for individual sentences together. For a really hard version, mix up all the words of all the sentences in one big pile, and let them sort it all out.
Of course, you can use all of these ideas, building one on the other, beginning with the letter scramble and working up to the sentence strips. No matter how you choose to use your Christmas words scramble, have a holly jolly time doing it!