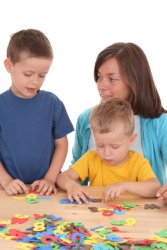 Fun language arts games are aimed at helping students improve and practice skills in reading, comprehension, spelling, vocabulary, writing, and composition. Incorporating language arts games in classroom activities can make English studies fun.
Need for Building Language Arts Skills
Building language arts skills is fundamental for students, particularly during elementary school. A foundation for communication and lifelong learning, language arts are a vital educational component of a student's successful future. While some students may enjoy these studies, other children may struggle with the subject area.
With this in mind, discovering ways to make language arts fun is important on many levels – from keeping students who already like the subject challenged and engaged to making the subject more interesting and easier to comprehend for those who struggle.
Language Arts Games for the Classroom
Teachers can easily supplement their curriculum with fun language arts games in the classroom. You can alter the format of a standard lesson to transform it into a fun game. Here are a few examples:
Dictionary Race: Great for elementary students to build vocabulary and familiarize themselves with using the dictionary, this game requires that the classroom has enough dictionaries for each student. The teacher gives a difficult word, and the students must race to find the definition. This game can be modified in many ways, such as giving points to students and having a final standoff among the top contenders or testing the students to see how well they remember the definitions.
Alphabetical Order Race: Divide the class into two teams. Give each team a group of identical index cards with words that need to be placed in alphabetical order, allowing one card for each person. As a team, have the students place the cards in alphabetical order. The team that finishes first wins.
Think Pink: This is a fun language arts game for students to practice using synonyms and adjectives. Students take turns, saying "think pink" for single vowel words or "thinky pinky" for words with two vowel sounds prior to their word choices. Other students must guess the correct set of words. For example: Hint: (Think Pink): Angry Father. Answer: Mad Dad. This game is also known as "Stink Pink."
Name That Part of Speech: Either as a class game or in small groups, students must identify as quickly as possible a given part of speech, whether verb, noun, pronoun, adjective, adverb, preposition, or interjection.
Missing Punctuation: Divide the class into two teams. Read a sentence aloud and have one child from each team write the sentence on the board including the correct punctuation. The team who writes it correctly first earns a point. The team with the most points wins.
Other popular games to use in the classroom to help students in language arts include:
Word searches
Crossword puzzles
Missing letter or fill-in games
Mad Libs
Choosing the correct word (commonly confused words)
Board Games That Teach Language Arts Skills
Board games are still popular in both classrooms and at home. There are many classic board games that help build English skills, as well as specialized educational games for language arts. Classic choices and fun family games include:
Scrabble
Boggle
Upwards
Buzzword
Scribbage
Scattergories
Educational supply stores have various fun language arts board and card games to teach specific skills, such as Spelling All Stars, Word Pond, Grammar Mania, and Language Launch.