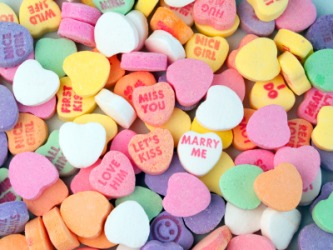 There is a lot of Valentine's Day vocabulary that is fun for students to practice using games. You can invent your own games for students to play, learn new games from your colleagues who have played Valentines Day games with students in the past, and add them into your lesson plan.
Valentines Day: Word Games for All Ages
As with any holiday, it can be very easy to incorporate vocabulary into your classroom. Just use the words in puzzles, hangman games, word searches and jumbles, and fill-in-the-blank Madlib games. Use the vocabulary on worksheets you hand out to the class, and incorporate it into as many facets of your classroom as possible.
Coming up with Valentines Day word games does not have to be hard.
Have students write a "love letter" (or "like" letter) to anyone – a friend, a parent, a classmate, their favorite celebrity, even a fictional person – using as much Valentine's Day vocabulary as they can.
Play Valentine's Day charades with your class.
Have them write short stories, riddles, or jokes using the words, and have them share their work with the class.
Sometimes Valentine's Day can feel like a lonely time for your students. They might not get as many valentines as their peers, or feel left out from dates, friend get-togethers, and other activities. Consider how games can be more about friendship and less about love to foster friendships between your students and let everyone feel remembered on this special day.
Valentine's Day Vocabulary
The best way to share holiday vocabulary with your students is to do so using teamwork. Instead of just sharing a Valentine's Day word list, have your students all brainstorm as a group. This way they get to practice using their creative skills and build teamwork skills at the same time. Encourage them to think of words themselves using provoking questions, such as:
What do we pass out to our classmates on Valentine's Day?
What month is Valentine's Day in?
When they are stumped, add a few more complex vocabulary words to the list.
Here are some words to keep in mind as your students build a list:
Valentine's Day
Love
Chocolate
Candy
Candy hearts
Flowers
Roses
Red
Pink
February
Valentine
Sweetheart
Love letter
Girlfriend
Boyfriend
Friend
Sweet
Sugar
Happy
Family
Be mine
Alternatively, students learn a lot from listening to you read Valentine's Day-themed books. This can become a fun, competitive game for students:
Read a Valentine's day themed story
Ask them to write down as many themed words as they can that they hear in the story.
Students who come up with the most words can win a Valentine's Day treat.