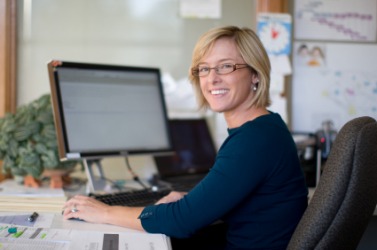 When the quarter comes to a close, many employees in jobs across the country are looking for general tips for writing your employee self appraisal. You don't want to get caught in the trap of being too modest or too boastful – it is a difficult tightrope to walk. It does not have to be difficult, however, and it can be a great opportunity to display your good-natured self-confidence as an employee. Keep reading for more general tips for writing your employee self appraisal.
What Is an Employee Self Appraisal?
Think of this as a chance for you to rate your skills. This can be scary – it is hard to criticize or compliment yourself on the work you do, never mind allow someone to access those self-judgment. Sometimes you will fill out a premade form, and other times you will be expected to construct a document yourself, like an essay. Before beginning, make sure you know what format your boss is expecting your employee self appraisal in, and make sure you know what specific topics your boss needs you to cover.
What Most Bosses Are Looking For
There is no doubt that most people are looking to impress their superiors at work when they hand in their employee self appraisal. They want you to write something that gives an honest reflection of the work you do for the company, how well you have accomplished your objectives and they often are looking for leadership skills, humility, and personal growth.
General Tips for Writing Your Employee Self Appraisal
There is no doubt that you are going to have to work hard to compose what you want to say – none of this writing should seem snarky, boastful, or off-the-cuff. Jot down ideas on paper, make a few drafts on a word processor, and take your time filling out the form or constructing a business-letter document for your superiors to read.
If you want, you can consider refreshing yourself with the history of your team, the information about the products you sell, and by looking over your old documents and project proposals from the last few months. This might give you some great ideas of where to focus your attention within your self appraisal.
Considering Your Company's Future – And Your Future at the Company
Although it might not be a good idea to ask your boss about general tips for writing your employee self appraisal, you might want to meet with your boss to ask about what he or she sees on your team's horizons and to understand what direction they want to take the company in within the coming months. This kind of information could help you shape the statements in your self appraisal in a way that is honest and yet very truthful about what problems are existing in your team – and what role you can play in the future of helping to solve
Polishing Your Report: The Final Touches
When you turn in your report, you want it to be in the best possible form it can be in. Make sure that you have proofread your self appraisal thoroughly – the last thing you want to have happen is a tragic spelling or grammar error, because your boss might focus more on the mistakes than the content.
It is not a good idea to ask your friends or co-workers edit your writing. Instead, write the report a few days before it is due, do not look at it for a day, and then edit it when your mind is clear. For example, the last thing you want to do is get into a disagreement at work and fill your employee self appraisal in the heat of the moment with no time to take a break and collect yourself. Hopefully, your creativity, put together with these general tips for writing your employee self appraisal, will help you showcase your skills as a worker and help you advance in your field.