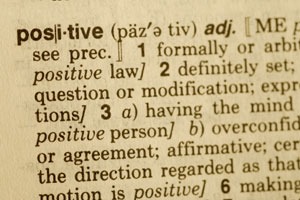 Writing a list of positive adjectives is a good exercise in many different situations. The power of positive thinking should never be underestimated, and it's great to have some positive words to whip out at a moment's notice.
In Your Everyday
People all over the world know this exchange:
Q: How are you today?
A: Just fine, thanks; you?
Q: Just fine, fine.
There's no reason why that common interchange has to be as boring as it is. Is fine the only word these people know? Of course not, then why always use it? People get it into a idiolectic rut and use the same word over and over. Try to change it up a little, and the people you see every day will actually like asking you how you are every day.
At the office, you can break out a lesser-known positive adjective, and it will bring a smile to people's faces. Human beings like the cerebral stimulation offered by the unexpected use of words. It's a really easy way to make yourself more likable and interesting.
Daily Affirmation
It doesn't need to be daily, but affirmations work wonders on people's psyches. Try writing a list of positive adjectives, and you'll be smiling before you're done. The world's a rough place that sometimes drowns out the silliness that surrounds us. When you're feeling down, you can look at comic strips, tap a bobble head, or watch a funny webclip, but if none of that's readily available (or even if it is), sit down and write a few positive adjectives. You'll be pleasantly surprised by the effect.
Describing a colleague or his work with colorful adjectives can make someone's day, too. It shows that you care enough about them to use something other than the mundane. When you brighten someone else's existence for even a moment, you're mitigating the suffering of the world, and that's something to feel good about. This all might sound a little touchy-feely, but give it a try, and you'll realize the power of words immediately.
Some people think that even the elements are subject to the positive energy surrounding certain words. The world changes based on a person's perception and the words he applies to it. Even if your language doesn't have a physical effect on everything, using positive words to describe your reality changes your reality because it alters your outlook. Changing your outlook for the better makes you a more pleasurable person to be around.
A List of Positive Adjectives to Get You Started
Most positive adjectives are fun to say. It might be because good words have been constructed by time to describe good feelings. It might be because good feelings surround positive words regardless of how they were built. One thing's for sure: Whatever an aura is, words have them. If you read a list of negative adjectives, you'd feel differently than you would about a list of positive ones. You owe it to yourself to experiment. It only takes a few minutes, and it might meliorate your day––maybe even your life.
Here's a list of 25 words to get you started thinking positively. Change your words and change your world!
Amazing
Awesome
Excellent
Fabulous
Fantastic
Favorable
Great
Incredible
Ineffable
Outstanding
Perfect
Remarkable
Smart
Spectacular
Splendid
Stellar
Stupendous
Super
Ultimate
Unbelievable
Wondrous
Now, don't you feel better? If you don't, you probably didn't read it, or your cynicism has given you myopia. Read the list again or try to write your own. If you still don't feel better, memorize a few of the adjectives you like most and use them when someone asks how your day is. If it doesn't make your day, it might make their's.