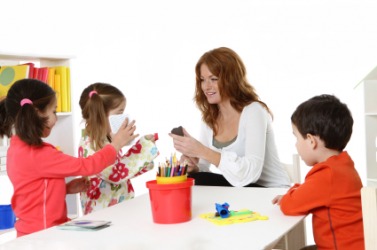 If you are wondering about the benefits of adjective games for kids, ask any teacher who has employed them in his or her classroom. Adjective games designed for kids are effective when it comes to developing a stronger vocabulary. Students seem to learn almost anything more quickly when the learning process is fun. Furthermore, students learn faster when they use their new skills often, and games make students want to keep using adjectives over and over.
Games with objectives can focus on different skill sets, such as building a complex adjective, strengthening descriptive skills, honing grammar usage skills, developing creativity, and boosting critical thinking skills. Don't tell your kids that playing adjective games is good for their mental health: they won't believe you since these games can be so fun!
Adjective Games to Develop Descriptive Skills
One reason teachers want to play adjective games with their students is that they want their students to become more accurate and specific when it comes to describing something. Outside of the classroom, if they are always using indicators such as "pretty" or "nice," they will not learn to describe things in ways that other people will understand.
To focus on this skill set, try a game called "Adjective Battleship." Bring in groups of small objects that are all similar in some ways but different in others. For example, bring in toy cars that are all the same colors, but they have different wheel shapes, or three green apples, but all are different sizes.
Break students into pairs, and give each group a set of three objects. Have one student secretly pick an object, and then have the other student guess which one the first student is thinking of. The second student must use questions that have adjectives. For example, a student could use questions like, Is it big? Is it round? Is the doll's face happy? Confused? Then, students will learn to be more accurate in descriptions using adjectives.
Adjective Games for Kids to Expand Vocabulary Skills
One of the more popular adjective games for kids is the "Fifty Awesome Adjectives" game. Have each student bring in a picture of one of their favorite places, perhaps a vacation picture, a picture of their home, or of a relative's house. Then, give them paper and ask them to write sentences describing the place with as many adjectives as possible – instead of saying "There are four trees," encourage them to write, "There are four tall, brown trees with thick, bushy, green leaves." The goal is to include fifty different adjectives in their description of the place. Then, have them trade descriptions with another student, and have them highlight each adjective they find with a highlighter.
If the other student finds at least fifty awesome adjectives, they can put a sticker on the description. Put the descriptions, along with the pictures, on a bulletin board in the room so that students become proud of their hard work and often see the photos of their favorite places.
If a student is stuck and cannot find enough adjectives, have the students look up new words using the thesaurus so that their vocabulary expands. That way, everyone wins, and students grow!
Adjective Games for Students to Boost Critical Thinking Skills
Some of the most fun adjective games are fun for kids are the ones they can play independently, such as word searches, puzzles, and brain teasers which feature adjectives. Most of these games can be found online, and teachers can design them using generators online so that students can focus on the vocabulary that is being taught in the classroom.
These games don't just teach new adjectives: they also boost attention skills, critical thinking skills, and independent learning skills. For more information about good adjective games for kids to use in your classroom, ask your peers what games they use to make learning adjectives fun for their students.