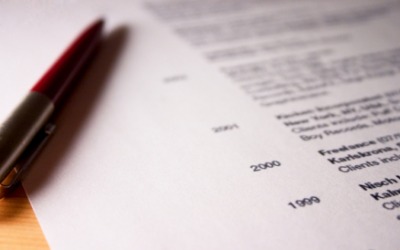 If you are interested in creating a strong first impression, you should consider using an adjective list for resume writing. This will help you find the right words to describe yourself and your work in a positive light. Sometimes it can be a tricky task to talk about yourself in a positive way, but if you use effective, targeted adjectives in a strategic manner, you will showcase yourself and your skills while making a lasting impression.
Adjective List for Resume
Below is a partial list of adjectives that might work well on your resume. Make sure to choose the adjectives that are right for you: the biggest mistake that most job hunters make is picking adjective that do not work best to describe themselves. For example, if you are looking to market yourself as an out-of-the-box thinker, using the word "methodical" will not really get your point across.
Here are some great adjectives to use:
Diligent
Energetic
Studious
Attentive
Conscientious
Consistent
Organized
Passionate
Hard-working
Determined
Trustworthy
Resolute
Steadfast
Committed
Loyal
Skillful
Methodical
Self-starter
Reliable
Motivated
Persistent
Dynamic
Aggressive
Enthusiastic
Enterprising
Professional
Using these adjectives will boost your resume without adding bulk: a few well-placed adjectives can be just as effective as several full sentences on your resume.
Focusing on a Positive Personality
Many people look through adjective lists for resume writing in order to market themselves as a great potential co-workers. You want to make sure that you showcase that you have a great positive personality as well as the skills required to excel at your job. Consider that each adjective you use is a chance to show a company that you have a great outlook on life, and that you are an optimistic team member, not just a pessimistic follower or a self-centered leader.
How Do I Use Adjectives on My Resume?
As with anything related to the job search process, you want to make sure there is a proper balance with how you portray yourself using adjectives. When choosing adjectives from an adjective list for resume writing to showcase your work, you should make sure to personalize them and get creative.
Resume readers see many of the same adjectives over and over again, and can get bored very quickly if they see repeats in your resume or the "same old" adjectives that most job hunters feature on their personal descriptions. Try to look at example resumes that are related to your desired position, and see how others have described themselves and their work effectively using adjectives.
Adjective List that Involves Jargon
When you write your resume and show it to hiring agencies and potential bosses, you want to be sure that you know what you are talking about. You should prove that you know how to use jargon in the right way, but you should consider the fact that if you over-use the jargon, you might look as if you are trying too hard or that you are new to the language. Have someone involved in your field take a look at the work you have done to determine whether or not your writing style accurately describes yourself and your work without over-doing it, or without making vocabulary mistakes.
Where Can You Find an Adjective List?
Many adjective lists for resume writing are available that deal with special skills or certain kinds of job applications. If you do an online search for adjectives which are great for resume writing, you will come across lots of great list options. See if a career services center can look at your resume and offer advice on how to effectively use adjectives to market yourself as a potential employee. You might even try having a mock interview, in which you have someone look at your resume and critique it from a professional standpoint.
For more information about finding a good adjective list for resume building for a particular industry, consider speaking with a career counselor or professional resume writer who can guide you further.