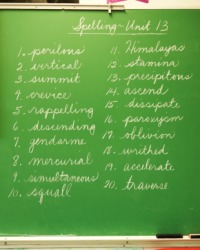 Are you looking for information about how to build an adjective quiz, or what uses this quiz can have? The possibilities for creating, using, and completing adjective quizzes are infinite. When it comes to adjectives, you can use quizzes to get better at your spelling skills, you can increase you knowledge of grammar rules, and you can effectively memorize the meanings of words. Keep reading to learn more about adjective quizzes and how they could be helpful for you.
Spelling Quizzes
If you are concerned about your spelling abilities when it comes to spelling adjectives, then consider creating a spelling quiz for yourself. For each question, have three spellings of the adjectives you are confused about. Many people get confused for example, about the right spelling of "fancyest," "fanciest," or "fancest."
See if you can generate several questions for yourself, and after setting the quiz aside for a while, come back to it and see if you can make the right choice. Check your answers using YourDictionary – our online dictionaries make looking up words an easy and quick process.
Keep quizzing yourself until you have all the right spellings down pat. If your child is the one having trouble with spelling, see if you can work with his or her teacher in order to learn about the specific spelling issues the student is having. Take a look at any of the adjective quizzes your child's teacher is giving at school, and see if you can identify any patterns to work on fixing with your child.
Grammar Quizzes
You can go online and take quizzes based on adjectives to boost your grammar skills. Find quizzes that ask you to fill in the blank with an appropriate adjective. It is also possible to look up quizzes that ask you to select the word in the sentence that is an adjective. You can invent a quiz for yourself or for a student by asking them to circle the adjectives in a paragraph or to insert appropriate adjectives in a sentence that does not have them yet.
You can find grammar quizzes that deal with adjectives online that ask about the definition of adjectives and to give concrete examples of adjectives. Often, the answers to these quizzes are online, or you can get a grade that tells you the percentage of the quiz questions that you got right. This can make it very easy to track your process as you learn more about the grammar of the English language as related to adjectives..
Meanings of Adjectives
Another way to use quizzes that are related to adjectives is to take quizzes that test your knowledge of the meanings of adjectives. Many people use common adjectives in their daily lives, but when asked the actual definition of the adjective, they are stumped.
It can be difficult to pin down exactly what an adjective means unless you study definitions and make an effort to learn the real meanings of adjectives. By making quizzes for yourself or for a struggling student that force the quiz-taker to learn the definitions of tricky adjectives, you or the student can quickly boost your vocabulary knowledge.
How to Make an Adjective Quiz
Making quizzes can often be even easier than taking them, since there are so many options for when it comes to designing and constructing an adjective quiz. By testing your adjective vocabulary or quizzing your understanding of the spelling and grammar of adjectives, you will learn more about adjectives and grow as a writer and public speaker.
As you become more familiar with adjectives, their uses, and their meanings, you will become a more precise speaker and will develop your ability to effectively describe things for other people. Your adjective vocabulary will increase exponentially. If you want to make your own adjective quiz, look online to find a quiz generator that will work for your needs, or consider constructing your quiz by starting with an adjective worksheet to use as the questions for your quiz.