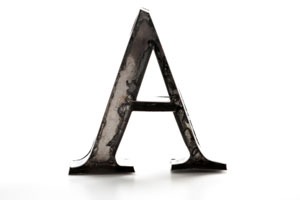 There are many adjectives that start with "A." "A" is the first letter in the alphabet and the most commonly used letter. It's emblazoned on everyone's favorite chipmunk's (Alvin) shirt. In America, you want to get straight "A's" on your report card. In England you have to finish you're "A" levels before completing your secondary education. When you need help, and if you can find them, you call the "A-Team." The top dog is the "alpha dog." Frank Sinatra says when you're "A number one," you'll thank New York. In western religion, the world's first man (Adam) has a name that starts with "A." When playing cards, the card everyone wants to see turn in their favor is the one conspicuously marked with the two-legged triangle people call "A." All sentient creatures experience a moment of understanding when they've figured something out, solved a problem, called the "Aha effect." It's possibly the most euphoric couple of seconds in life; the brain lights up with activity in the pleasure center, and in English it's called "aha" -- coincidence? Probably not. "A's" are always good.
Sound off
In English, the "A" can make a few different sounds.In fact, this little letter can make dozens of nuanced sounds. "A's" can sound like they do in the first syllable in "attaboy," they can sound like Fonzie's greeting, "aayyy," or they can sound like the noise you make when you get into a perfectly heated bath, "ahhh." They can also sound like everybody's favorite upside-down letter, the schwa like the "A" in "idolatry." That's just a primer. "A," being the most commonly used letter in the alphabet, is also the most versatile.
That versatility means adjectives that start with "A" range from the most offensive to the most positive. Since "A" is so common in other languages, it comes into English meaning extremely varied things, so there's no rules of thumb or guidelines when it comes to "A" unless you really want to get into etymology. Etymology can get rather confusing when it comes to the first letter in the alphabet.
Adjectives that Start with "A"
There are hundreds of adjectives that start with "A," so they won't all appear here. It's fun to sit around with friends at a café and try to think of as many "good" or "long" adjectives as you can starting with any letter. It refreshes your vocabulary, makes you more of a crossword pro, and knowing a few off the list you make by heart can come in handy in conversational, off-the-cuff puns. For some reason, alliteration is interesting to the human ear. Assonance, when alliteration is a bunch of words starting with vowels, is particularly amusing, so knowing some A-adjectives is definitely a good thing to do.
Here are the top twenty:
Advantageous
Avuncular- like your uncle. . . your good uncle.
Astronomical- this word comes from "astronomy" which is naming the stars, a very big task. That's why astronomical means really, really big.
Androgynous- possessing both male and female qualities.
Auricular- having to do with your ear. Your "pinky finger" is also called your "auricular finger" because it's the one most people stick in their ear.
Amoral- "A" hear means "without" so that the word means "without morals," a little different from "immoral." Animals are amoral while people can be immoral.
Agoraphobic- the fear of outdoors.
Angelic
Accessible
Avaricious- greedy
Acrimonious- a bitter and caustic personality.
Azure- a fancy word for blue.
Awesome
Ambivalent- "any way the wind blows."
Ambidextrous- "look Ma, I can write with both hands!"
Appropriate
Ardent- a strong or intense feeling.
Adamant- unbreakable or unyielding. Adam Ant is also an 80's icon.
Alluvial- something that is created over a very long time, like alluvium.