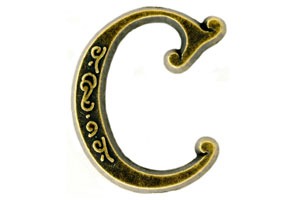 Creeping into third place is "C" along with all the adjectives that start with "C." There's never been a better time than now to catch up with them. "C" is like a more versatile "K." It can sound like a "K," but it can also sound like the soft hiss of a careful serpent sneaking toward its sleeping prey.
There's something inherently vulgar about "C." It pushes around poor "E" and "I" so that nobody really knows when which comes first, making English spelling much more difficult than it ever should have been. And can you think of a vulgar word that doesn't have the sound a "C" makes? Probably not. It seems there is a lascivious quality to the noise of "C." Shaped like a hook, it pulls the ear init as if to whisper a deliciously juicy secret or morsel of gossip into its sweating canal. Shhh: listen closely; the "C" is like a silent sin who hides in the English language waiting to be discovered like snake wrapped around the tree of knowledge.
In academia, there is a saying: "'C's' get degrees." It's true that all you need to graduate from a top-ranking university is earn straight "C's," but what they don't tell you is that anyone can earn a "C." "C's" are handed out like advice: to anyone who is willing to take it. "C's" are good enough. George W. Bush graduated with a C-average from Yale and was the 43rd president of the United States. A solid "C" is all you really need once you get to college. It's laughable that so much importance is placed on SAT scores and high school GPAs by the very same institutions that happily hand out degrees to students who barely show up to class. What a vulgar little letter "C" truly is!
Adjectives that Start with "C"
One of the best things about adjectives that start with "C" is how the letter can appear twice in the same word and sound different both times. Then, if "C" is next to an "H," you get a whole different sound, one of the most English sounds there is. In only one of these words is "C" silent, but it ends in a hard "C" sound. The fun never stops with "C." You should try making your own list of C-adjectives and then challenge your friends to a game of hangman.
Courageous- one the most important qualities of a good person.
Customary
Creative
Capacious- imagine standing alone in a domed stadium.
Capricious- often mixed up with "capacious," its meaning is very different. "Capricious" means "care-free" or "mercurial."
Captivating
Casual
Cryptic- like a message that's hard to decipher.
Cybernetic- like the Arnold in Terminator: part man, part machine.
Curvaceous- like Anna Nicole-Smith when she was doing Guess Jeans ads.
Cerulean- a shade of deep blue.
Cyan- a shade of light blue, one of the four colors of conventional printing.
Comprehensive
Cervical- describing a neck-like structure.
Chinese
Culinary
Chthonic- dark and mysterious or originating from the underworld.
Colonial
Crisp