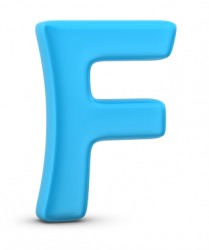 When a person thinks of adjectives that start with "F," none of the nice ones spring to mind. Unfortunately, sometimes one apple can spoil a whole barrel when it comes to words. People have lost their jobs, their respect, and even their lives because someone uttered the "F-word" at the wrong time. Children have been beaten for saying it, radio personalities have been fined because of it, and high-ranking officials of all kinds have been humbled and forced to apologize for using it. The letter "F" is probably the strongest letter in the alphabet.
It has the most impressive ability to affect thoughts and feelings, and "F" is a symbol for many things that can possess that same aptitude. Aside from the dreaded "F-word," "F" also stands for "FAIL." In fact, on an American report card, "F" is the only letter that has a corresponding word for its meaning. What does "A" stand for? What does "B," "C," or "D" stand for? They don't stand for anything other than percentage numbers arbitrarily assigned to them by educators and bureaucrats. "F" on the other hand, is "failure." Failure cannot be tolerated. "F" as a grade comes from a forgotten time when students received either a thumbs up or thumbs down at the end of a course; they either passed or failed. Some schools have decided to change an "F" grade to "No Credit," and some have made "E" their lowest grade, but for the most part "F" remains the most popular marker of failure. Adjectives that start with "F" aren't so bad, though. Keep an open mind and heart for the letter "F," and you'll find that the letter has a great deal to offer in the way of totally awesome vocabulary.
20 Adjectives that Start with "F
Fickle- like the taste 12-year-old girls have in friends and clothing: changeable, inconstant, and dramatic.
Facinorous- criminal or at least very, very wicked.
Facile- as easy as saying hello in your own language.
Forthright- outspoken or simple
Factious- like a person who talks mutiny on a starship, bringing about an internal conflict in what is usually a perfectly oiled military operations.
Fraudulent- like a confidence artist who lies about who he is.
Freudian- a cigar is not always just a cigar, apparently.
Feeble- the way people who don't get enough vitamins end up.
Fine- like a day full of sunshine or a spring without allergens.
Flirtatious- like a baby in the bus seat in front of you who peeks over its mother's shoulder just to bat its eyelashes at you and smile.
Flamboyant- like a flamingo.
Fungal- like the stuff growing on your feet to make them stink.
Furious- a little more angry than the giant who chased Jack after to recover his golden-egg-laying goose.
Funky
Free
Faux- the only type of humane fur.
Fabulous
Frank- more honest than any politician you will ever even hear about.
Furtive- like a dog about where he buries his bones: he'll never tell anyone.
Fortuitous- like the event that every gambler hopes for.