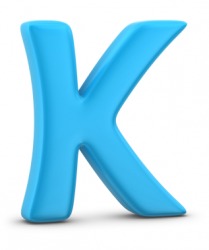 Although adjectives that start with K are not all that common, there are some very good ones that should not be overlooked. If you're in the market, then, for a K adjective to use in the name of your business or in an advertising campaign, and you don't want to resort to "cute" misspellings like "krazy," "krispy" or (spare us, please) "kwik," look no further. Here are the top twenty adjectives that start with K. They might not all be suitable for an ad campaign, but at least they're real words.
Top 20 Adjectives That Start With K
keen - There are at least three distinct ways to use keen:
It can mean sharp-witted, mentally acute or shrewd, as in, "My 90-year-old grandmother's mind is still quite keen." In the U.S., we also say "sharp."
It can also mean eager, enthusiastic or very interested. In this meaning, "keen" is often paired with a preposition (on or about) followed by a noun or activity. It's more of a British expression, but it's a good one. I'm not very keen on bowling.
And finally, "keen" can mean strongly felt or intense, as in "a keen sense of smell."
kempt - neat; tidy; well-groomed - You may be more familiar with the antonym, unkempt, especially if you have teenagers with bedrooms.
killer - Literally, this means having the potential for killing, but as a slang term, it can also mean very difficult, hard to cope with, successful, impressive or exciting. They may seem contradictory, but you can attend a killer (difficult) aerobics class, after which you feel as though you're going to die, or you can write a killer (impressive) essay for which you receive an excellent grade.
kind - sympathetic, friendly, gentle, tenderhearted, generous, etc. You can also say "kind-hearted," which has the same meaning but also carries a more personal sentiment, as though you are very close to the person you are describing.
kindly - The less popular twin brother of "kind" with the same meaning, generally reserved for describing elderly gentlemen.
kindred - of like nature; similar (as in "kindred spirits")
kinesthetic - of or related to bodily movement I'm a kinesthetic learner; I learn by doing.
kinetic - of or caused by motion; energetic or dynamic
king-sized - really big, like a king-sized bed or a king-sized ice cream cone
kinky - Again, we have a literal definition and a slang one. Literally, "kinky" means full of kinks or tightly curled, but as a slang word, it means weird, bizarre, eccentric or peculiar, specifically sexually abnormal or perverse.
kissable - having the potential to be kissed (You know it when you see it.)
kitschy - describing art, writing, etc. of a pretentious but shallow kind, calculated to have popular appeal
kleptomaniacal - having characteristics of a kleptomaniac
klutzy - clumsy, awkward, etc.
knitted - made by knitting
knobby - covered with knobs; like a knob
knotted - tangled, tied into knots
knowledgeable - having or showing knowledge or intelligence
kooky - silly, eccentric, crazy, etc. (The top choice for replacing "krazy" in all your advertising from here on out.)
kosher - This word started out meaning clean or fit to eat according to Jewish dietary laws, but it has expanded to also include a more general definition of all right, proper or correct. If you own a barbecue restaurant, however, naming it Kyle's Kosher Kitchen is probably not the best way to go even if it is the most properly pulled pork in town.
So you see, there are lots of adjectives that start with K, and now that you know them, inventing new ones is just unnecessary. Why use "klean/kleen" when there's "kempt?" What good is "krazy" when you've got both "kooky" and "killer?" Take your pick. There's something here for everyone.