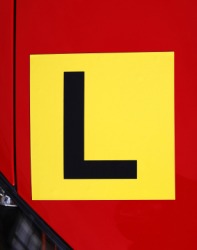 The origin of the letter L can be traced back to an ancient Egyptian hieroglyph symbol. The Egyptians' symbol for L was represented by the figure of a lion. Maybe that explains why the capital letter "L" has such a majestic quality. It then took on many different forms by the Phoenicians, Greeks and the Romans to evolve into its present angular shape.
Adjectives that Start With "L"
Here is a list of adjectives that begin with L. There is a common theme that connects them. Do you know what it is?
Lackadaisical – showing absolutely no interest or enthusiasm. Some teenagers exhibit this behavior when told to do chores around the house.
Lax – refers to someone or something that is not very strict or firm. A college student that is lax about deadlines will most likely not get very good grades.
Leaden – when you think of the word lead, heavy comes to mind. To be leaden is to feel sluggish, slow, or lacking energy—as if you were carrying around a sack of lead!
Latent – something that is present within someone or something, but is rarely used. For example, a person can have a latent creative side that they never use.
Languid – without energy, enthusiasm, sluggish. After a long day at work you feel a bit languid.
Lame – one meaning for lame is a weak or unconvincing excuse. Teachers often get a number of lame excuses from students about why their assignments are late.
Loopy – when you call someone loopy, you think they are a bit crazy. It can also mean to feel confused. People often feel a bit loopy if they have not got enough sleep.
Lenient - refers to someone or something that is not very strict. A lenient parent may let their teenagers come home after midnight.
Low – there are many meanings for low, but fitting within this theme of adjectives to feel low is another way of saying you are lacking energy or feeling a bit depressed.
Lackluster - when describing a performance or a speech, lackluster means boring or without much energy. If you give a lackluster speech, you will quickly put your audience to sleep.
All of the L adjectives above have a negative connotation to them. Some of them can be used interchangeably, such as lax and lenient, and languid and leaden.
L Adjectives - Test
Complete the sentences below with one of the above words. Please note that sometimes more than one word can be used.
Since Marta broke up with her boyfriend she has been feeling very __________. She needs some cheering up!
I'm so mad at Joe because he forgot to pick me up at the airport. When I asked him, he made some ___________ excuse.
Everyone loves Mr. York because he is quite ___________ when it comes to giving homework.
The play got bad reviews in the paper, mostly because of the main actor's ___________ performance.
Although Tim comes across as ______________. He is not always silly and is actually very smart.
I don't go to that cafe anymore because the waiters are so ______________. It is like they do not want to be working.
Our boss is very understanding and is ______________ when sometimes we are late.
Michelle has a ______________ artistic side. She used to paint 10 years ago.
Answer Key:
1. low; 2. lame; 3. lax or lenient; 4. lackluster; 5. loopy; 6. lackadaisical; 7. lenient; 8. latent