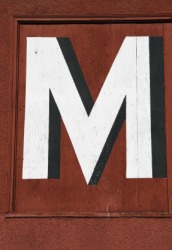 The letter "M" is the thirteenth letter in the English alphabet. It evolved from an ancient Egyptian hieroglyphic that meant "owl," and since everyone knows that owls are wise, the letter "M" must be a useful letter. In fact, it is the first letter of a lot of very positive words in the English language, such as me, mine, money, magic, and miracle. If you think a food tastes yummy, you can string many m's together to make the sound mmmmm! There is even a famous candy called M&M's which uses 2 letter "M"s! Many adjectives in the English language start with the letter "M" including the very adjective that started this sentence.
Adjectives That Start with "M"
Any word that describes a noun is considered an adjective and there are hundreds of adjectives in the English language that start with the letter "M." Although it would be impossible to name them all here, here's a list of 20 you may not know.
Macabre: Ghastly (I think that haunted houses are macabre.)
Machiavellian: Characterized by craftiness and duplicity (Cheating to win at Scrabble is Machiavellian behavior and should be discouraged.)
Maladapted: Not properly adapted to (Maladapted species tend to die out as part of evolution.)
Malefic: Evil (Lying is malefic behavior and you should not do it.)
Malleable: Capable of being changed (The malleable boy changed his mind with each new lesson.)
Maniacal: Enthusiastic, perhaps to the point of crazily so (Collecting every Star Wars toy is a maniacal obsession.)
Melancholy: Sad or gloomy (The melancholy girl liked to watch sad movies and cry.)
Meretricious: Using false, showy charm (Some meretricious people are good at making friends, but don't keep them for very long.)
Meritorious: Deserving of praise (The meritorious article won the prize at the science fair.)
Militant: Ready to fight (Militant people get into arguments a lot.)
Misanthropic: Disliking people (The misanthropic man yelled at the neighbors for being too loud, when they were barely whispering.)
Modish: Fashionable (I like to wear modish clothing when I go out for dinner.)
Monarchical: Like a monarch (king or queen) (The monarchical girl always wanted her own way.)
Monomorphic: Having only one form (People are monomorphic, while caterpillers change form.)
Mucky: Dirty: (His mom said he was mucky after he played in the mud and he had to take a bath.)
Mulish: Stubborn (Mulish people don't change their minds very often.)
Multiparous: A woman with two or more children (The multiparous woman had seven children.)
Murky: Cloudy, unclear (The lake was murky.)
Myopic: Lacking understanding (If I wasn't so myopic, I would understand better.)
Myriad: An infinitely large number (There are a myriad of different adjectives that begin with "M")
See how many more you can name!
Sound Off
Unlike some letters, which make different sounds in different words, the letter "m" is an easy letter. It always makes an "emm" sound. When "M" begins a word, it is usually followed by a vowel- like magic, men, mine, more and music. There are some exceptions to this, like the word mnemonic where the "m" is basically silent. However, no matter where the letter "m" is in the word, or what letter follows, you'll always know what sound to make with "m."