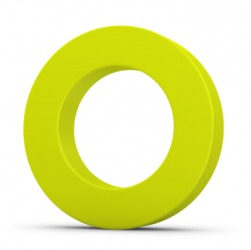 Adjectives that start with "O" are very common. You might even say that they are omnipresent. Below is a list of twenty-five of them along with their definitions followed by a story using at least thirty! The use of that many O adjectives in one short story may be a tad out of the ordinary, but it's original!
Adjectives That Start With O and Their Definitions
Odd - not usual or ordinary; singular; peculiar; strange; queer; eccentric; having a remainder of one when divided by two; not even: said of numbers
Obedient - obeying or willing to obey; submissive
Obese - very fat; stout; corpulent
Objectionable - disagreeable; offensive
Obliging - ready to do favors; helpful; courteous; accommodating
Obscene - offensive to ones feelings, or to prevailing notions, of modesty or decency; lewd; disgusting; repulsive
Observant - paying careful attention; keenly watchful; perceptive or alert
Obsolete - no longer in use or practice; discarded
Obtuse - greater than 90 degrees and less than 180 degrees; slow to understand or perceive; dull or insensitive
Occasional - of irregular occurrence; happening now and then; infrequent
Offensive - unpleasant, as to the senses; disgusting; repugnant; causing resentment, anger, etc.
Oily - of, like, consisting of, or containing oil; covered with oil; greasy
Omnipotent - having unlimited power or authority; all-powerful
Omniscient - having infinite knowledge; knowing all things
Opaque - not letting light pass through; not transparent or translucent; not reflecting light; not shining or lustrous; dull or dark
Opportune - happening or done at the right time; seasonable; well-timed; timely
Opposing/opposed - set against; placed opposite, in balance or contrast; contending with in speech or action; resisting; withstanding
Opposite - different in every way; exactly contrary
Optimistic - having the tendency to take the most hopeful or cheerful view of matters or to expect the best outcome
Opulent - very wealthy or rich; characterized by abundance or profusion; luxuriant
Original - having to do with an origin; first; earliest; never having occurred or existed before; fresh; new; novel; capable of or given to inventing or creating something new, or thinking or acting in an independent, individual, fresh way; coming from someone as the originator, maker, author, etc.
Orthodox - conforming to the usual beliefs or established doctrines, as in religion, politics, etc.; approved or conventional
Ostentatious - characterized by or given to pretentious or conspicuous show in an attempt to impress others
Outrageous - having the nature of, involving, or doing great injury or wrong; exceeding all bounds of decency or reasonableness; very offensive or shocking; violent in action or disposition; unrestrained
Outstanding - prominent; distinguished; conspicuous; unfulfilled; unsettled; unpaid; uncollected; marked by superiority or distinction; excellent
Now, see if you can find all these adjectives that start with O in the story below!
The Optimistic Octogenarian
The old woman walked home in an odd mood considering the meeting she'd just had. She'd always been optimistic, but this kind of optimism, in the face of such a situation bordered on outrageous or even obscene.
With so many payments outstanding since her husband's death, the ostentatious home they'd built together was about to be taken away. The opulent life she lived was about to end.
"How could the bank manager be so obtuse?" she wondered. All these years, he'd seemed so obliging, so friendly, so helpful, and now suddenly, he'd become so cold and official, objectionable, obnoxious. She was a sweet, little, old lady, after all? How could someone be so harsh and unseeing?
"I warned you about him," her son would say when she told him the news. He'd always found the manager an "offensive, odious, oily, obese oaf," but only when he was trying to be nice. "Just because he owns half the town and has his lackeys in every corner, he thinks he's omniscient and omnipotent. Well he's got another thing coming.
"In the safety of her living room, the old woman sat down and sighed. Then, picking up the newspaper, she realized the source of her optimism: She had everything she needed to pay off the bank. She'd only need to get rid of some things she'd never liked to begin with.
When he started making his fortune, you see, her husband had become obsessed with the work of an obscure modern artist, buying up original prints left and right. He said he admired the mix of opaque acrylics and translucent water colors.
She'd always been opposed to such frivolity, but she would never have begrudged him the occasional indulgence. Besides, they weren't that expensive.
Now, reading the headlines of the Arts and Entertainment section, she knew that the painter and his unorthodox techniques had not become obsolete like she thought they would. He had in fact become quite world-renowned, and his original works of art were worth tens of thousands of dollars apiece.
She'd always been respectful of, and obedient to, her husband, and for a moment, she felt a twinge of doubt, as though selling his beloved paintings would dishonor his accomplishments. Then, a completely opposite thought came to her. The idea of getting rid of the paintings she disliked had never occurred to her until this most opportune moment. It was as though her husband were still providing for her even after his death. She had only to be observant enough to see the provision all around her.
The old lady went to bed that night with the windows open, feeling the warmth of the night air and the security of the home she would love for years to come.