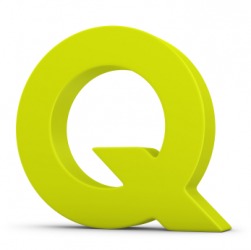 You may not often find yourself in need of a Q-word, much less an adjective that starts with Q, especially if you live outside of the world of competitive Scrabble, and truth be told, there aren't that many of them, but they're nice to know anyway. Here we have the fifteen top adjectives that start with Q. There may be a few more in existence, but like many of the adjectives that start with X, the average person will never need to know them.
Definitions and Example Sentences of Adjectives That Start With Q
quaint - unusual or old-fashioned in a pleasing way That little village we visited on the Mediterranean coast in Italy was so quaint; it looked like it hadn't changed in a hundred years, and the people were unbelievably friendly.
qualified - having met conditions or requirements set; having the necessary or desirable qualities; fit; competent Sonia didn't get the job because she wasn't qualified; she needed either a Master's degree or three more years of experience.
quantifiable - able to be determined or measured; able to be expressed in quantitative terms, or as a numerical equivalent The depth of a mother's love for her child, like the depth of space, is too large to be quantifiable.
quarrelsome - inclined or ready to quarrel If Joel is a pacifist, and Mark is very quarrelsome, will Joel become quarrelsome as well when they disagree on how to deal with conflict?
queasy - affected with nausea; nauseated Many people didn't like The Blair Witch Project because they became queasy watching footage that was filmed on a hand-held camera.
queer - differing from what is usual or ordinary; odd; singular; strange My, what is that queer smell emanating from the baby's diaper? *Note: Queer is also a slang term meaning homosexual, and while it has generally been regarded as derogatory, many members of the gay community have adopted the use of the word without any negative connotations in an attempt to change the public's view of both the word and the lifestyle. However, if you do not intend to cause offense, it's probably best not to use "queer" in this way.
querulous - inclined to find fault; full of complaint; peevish I'd rather travel with a sickening optimist than with a querulous person.
quick - rapid; swift; done with promptness A quick walk around the building is just the thing to cure the mid-afternoon blahs.
quiet - still; calm; motionless; not noisy; hushed You were so quiet when you came home last night, I thought you'd stayed out all night long. Wait, isn't that the same thing you were wearing yesterday?
quilted - like or constructed like a quilt Quilts are so comfortable that they've now become synonymous with comfort itself. Everything that we want to be comfortable now comes in a quilted version: quilted mattresses, quilted jackets, even quilted toilet paper!
quintessential - the pure and concentrated essence of a substance; the most perfect embodiment of something Calvin's dog is the quintessential "man's best friend." He fetches slippers, catches frisbees, loves to play and swim, and he doesn't mind sleeping on the floor when Calvin has "company."
quirky - full of peculiarity; having unusual traits or mannerisms Some people say that Genevieve's having an alter-ego ("Sunshine") for when she goes clubbing is really weird while others just think she's a little quirky.
quixotic - extravagantly chivalrous or foolishly idealistic; visionary; impractical or impracticable The revolutionaries may have been quixotic, but they weren't dangerous.
quizzical - odd; comical; teasing; bantering; perplexed; questioning Knowing we'd just planned a ten-day cruise for the holidays, my husband game me a quizzical look when I told my mom we'd see her at Christmas. He didn't know she'd be on the boat with us.
quotable - worthwhile quoting or suitable for quotation Some people think that Zoolander is a stupid movie that causes you to lose IQ points just by watching it, but I find it to be infinitely quotable.
So you see, Q-adjectives are useful for a whole lot more than just playing Scrabble. They can be used in a variety of situations to describe an infinite number of people, activities, places, things and ideas. And if you do use them in a game of Scrabble, congratulations on all the points.