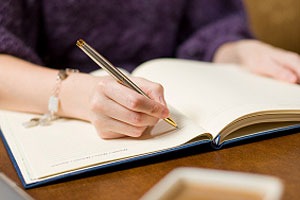 Here is a list of adverbs to help you describe what's happening around you. So many words can be changed into adverbs, so a list of good ones that you might see or hear in your everyday life can help you consider incorporating them into your active vocabulary. The proper use of adverbs can separate your speech or writing from others'. Adverbs make you sound like you're worth listening to.
What is an adverb?
An adverb is a word used to modify verbs, adjectives, and other adverbs. Adverbs are like the seasoning in sentences. They help describe how things appear and how things happen. They help a reader see action in his mind's eye and paint pictures with words. Adverbs help you control what others see when you speak or write. Many adverbs end in "ly," but don't think that all adverbs end in "ly" or that all words that end in "ly" are adverbs.
Adverbs are one of the necessary components to good writing. When used correctly, they can add a whole dimension to your work.
List of Adverbs to Modify Verbs
It's just too easy to say that the quick brown fox jumped over the lazy brown dog, but how did he do it? That's the thing everyone is dying to know. A strong verb can often stand on its own, but adverbs can strengthen and color verbs to add a sense of verisimilitude to any sentence. Written words should paint a picture in the reader's mind, and adverbs help make that happen. Adverbs ad punch to punches and kick to kicks. Having a favorite list of adverbs adds a degree of energy and spice to your verbiage.
Swiftly: Done in a fast way
The orangutan swiftly kicked the dog.
Miserly: Done in a greedy way
John miserly eyed his snickerdoodles.
Staunchly: Done in a firm way
Johnson was staunchly opposed to the proposition.
Thoroughly: Done in a complete way
Mary was thoroughly annoyed by her poodle.
Adverbs to Modify Adjectives
How tired were you? How ugly was it? Readers and audiences beg for the answers to such questions. Adverbs give them those answers while lending intensity to writing and speech. This list of adverbs that modify adjectives consists mostly of ones used in speech, but they are just as useful in written descriptions. English tests want test takers to understand that roses smell really sweet and not real sweet because a firm understanding of adverbs shows a speaker's ability to command the language. When properly done, adverbs can be wielded to great effect.
Really: Genuinely
It was a really red Mustang.
Diametrically: On the diameter of a circle
His views are diametrically opposed to mine.
Totally: Altogether
He was a totally awesome dude.
Unusually: Out of the ordinary
Mary's dog was unusually hyperactive.
Adverbs to Modify Other Adverbs
Sometimes even adverbs need help. When you want to bring attention to a level of rapidity or to a degree of languidness, you need an adverb to describe another adverb. When you want to describe an adverb with another, just stick them next to one another.
Incredibly: Unbelievably
The obtuse man spoke incredibly slowly.
Abnormally: Out of the realm of normalcy
Mary's hyperactive dog barked abnormally often.
Rather: Very
Orangutans attack rather viciously after dark.
Don't Overdo It
Overuse of adverbs is the mark of an abecedarian writer. When you use adverbs too much, the opposite effect is achieved. Readers become more annoyed and bored than enthralled or excited. The trick is to only use adverbs when they're needed most. When you use adverbs too often, it betrays a lack of good verbs. When you use too many homerun verbs, it betrays a gap in ability when it comes to adverbs. With practice, you can manage just the right mixture of both.