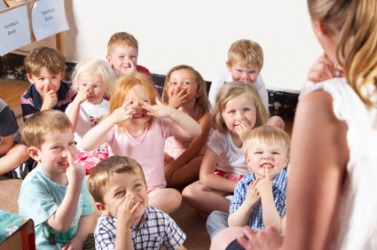 Playing action verb games solves a lot of problems in the classroom. After all, most teachers know that teaching grammar can be tough, especially when it comes to keeping our grammar lessons fun for students. Games are the perfect way for us to make learning about verbs fun and educational. Read on to get some great ideas for teaching your students about the function of action verbs in a fun, interactive manner.
What Are Action Verbs?
Action verbs get their name from what they do: these verbs express action of the subject, what a person, animal, force of nature, or active thing can do. Unlike helping verbs or linking verbs, action verbs directly convey what the subject is doing: moving, shaking, running, falling, and everything in between. Keep in mind that as you teach the concept of action verbs, you want to make sure students understand the function these verbs serve in sentences and how these verbs are different from other verbs, such as linking or helping verbs.
Action Verb Games
The best action verb games are the ones that are active and entertaining – after all, if the verbs are active, your students should be, too! Consider the simple game of "Action Verb Charades," in which a student acts out motions for his or her peers, and his or her fellow students guess as many actions represented by the charade as they can collectively.
For example, a student may jog in place on his or her turn at the front of the class. Then, the students can guess many action verbs associated with this action: he is jogging, running, moving, breathing, panting, and exercising. The list could continue to build until the students are stumped with action verbs or until a student lists a verb that is not in fact an action verb. Then, help your students understand their mistakes or offer suggestions of action verbs they may have missed.
This game is great since it takes no set up or clean up, has no supplies, and forces your students to work together since there is no winner.
Rainy-day Action Verb Activities
When the weather is not so great, or on a day that your students seem tired, you might want to have fun grammar activities on hand for students to do in groups at their desks. One great game for students is to work in groups of two or three watching a short cartoon of your choice.
The students try to write as many sentences together as possible during the movie that are simple in nature but all feature action verbs. Some examples might be, "The bunny chased the farmer. The bunny painted a sign. The bunny ate a carrot." Using funny, non-violent clips, of course, is preferable within the classroom.
Then, group the students in fours such that two pairs of students are now working together. Restart the short clip, and have these new groups create a combined list of sentences featuring active verbs. See if they can notice any new possible sentences featuring action verbs, and encourage them to build their lists. Make sure students try to correct each other's mistakes, and walk from group to group to answer any questions that they have.
In the end, have students read their active sentences out loud, and a few have students at the front act out the action verbs at the front of the classroom. If students are having trouble acting out the verbs, ask them if the sentence really had an action verb in it.
Correct them as you go, and point out some essential action verbs along the way. You'll be entertaining your students as well as boosting teamwork skills and cooperation – and you'll get your kids moving and out of their seats, while you're at it.
More Ideas to Get Your Lesson Plan Started
Creating lesson plans that are interactive, fun, and educational does not have to be a difficult process, and you do not have to come up with ideas all on your own. For more information about action verb games, consult with your coworkers and see how they incorporate games into their grammar teaching for their students.