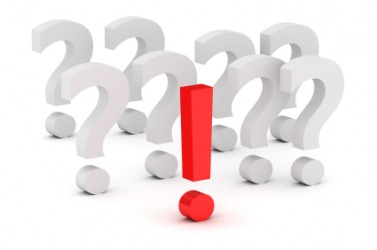 In a famous Seinfeld episode, the Elaine character had a fight with her boyfriend that ultimately led to a breakup when he did not use an exclamation mark in a message he left her about her friend having a baby. Clearly, he could have been helped by some guidance on exactly what the rules are for proper exclamation point usage. Fortunately, this guide below should save your relationship from a similar fate by helping you learn just when and how to use an exclamation point to punctuate your sentences.
What is an Exclamation Point?
An exclamation point is a type of punctuation mark that goes at the end of a sentence. Other examples of related punctuation marks include periods and question marks, which also go at the end of sentences. An exclamation point, also called an exclamation mark, essentially looks like a period with a vertical line over it: !
Although exclamation marks were introduced into the English language in the 15th century, exclamation marks did not even exist as a separate key on standard typewriters until the 1970's (apparently, people just weren't as excited back then!). Fortunately, exclamation points now have a (somewhat) prominent place on computer keyboards right above the number one key--- yes, you have to hit shift to get it, but it's on the number 1!
When Should Exclamation Points Be Used
Exclamation points were originally called the "note of admiration." They are still, to this day, used to express excitement. They are also used to express surprise, astonishment, or any other such strong emotion. Any exclamatory sentence can be properly followed by an exclamation mark, to add additional emphasis. After all, isn't it a lot more exciting to say "I am excited!" then to say "I am excited."
They are commonly used after interjections (words or phrases that are used to exclaim, command or protest). Interrogatories include words such as "oh, wow, and boy" For example, Wow! This grammar stuff is interesting. Boy! I wish I'd learned it before. Oh! That's right, I did.
When used in a quote, exclamation points should be inside the quotation marks: Joe said, "I like pizza a lot!"
Multiple Exclamation Point Madness!
Exclamation points go at the end of sentences. Typically, only one exclamation point is used. In informal writing, many people often use one (or many) to emphasize their excitement. For example: "No!!! I told you metal can't go in the microwave" certainly gets the point across and has a lot more impact as you run for the fire extinguisher. Exclamation points can also be used with question marks to express shock, protest or dismay. For example:What do you mean you forgot the plane tickets?!?!?!!?
There is some dispute in regards to whether exclamation points belong in formal writing or not. Most conventional grammar rules and grammarians say that they really don't belong, or at a minimum that they should be used sparingly. All sorts of arguments have been made against the exclamation point- everything from the fact that the writing should create its own emphasis to the belief that an exclamation point will distract the reader. However, some prolific writers do use exclamation points freely in their work and one best selling author, Tom Wolfe, is known for being a big fan of the exclamation point.
Comic books frequently use exclamation points for emphasis and to add excitement to their pages. Certain famous brands have branded the exclamation point right along with their name- for example Jeopardy! Is a lot more exciting then just Jeopardy, and Yahoo! Really has to have to that exclamation mark accompanying it.
Examples of Exclamation Marks
Here are some example sentences that use exclamation marks:
Yes! I will marry you.
Oh! That is a great new dress.
Wow! I can't believe I ran into you here.
No! I did not intend to lock myself out of the house.
Stop! I really don't want to get wet, don't throw me in the pool!
The cat said meow! loudly and I couldn't sleep.