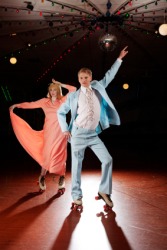 Researching some 1970's slang might take you back to a different time in your life, or it might introduce you to an entirely new way of speaking which you were not familiar with before.
1970's Slang
When you are reviewing this list of 1970's slang, you might notice that some of the phrases have stuck around until today. Some of them may have slipped into oblivion for awhile, but language that goes underground for awhile, tends to spring back up again unexpected.
What follows is a list of some of the most popular slang phrases from the disco era.
Skinney
Psyche
Crib
Gig
Far out
Dream on
Don't be such a spaz
In your face
Face!
May the force be with you.
That's sick!
The man
To the max
You know
Your momma
Joe momma
Booking
Catch you on the flip side
Fab
Fool that you are
Get down
Boogie
Keep on truckin
Right on
Putz
What it is, what it is
Are you decent
Are you jivin' yet
Awe sooky sooky
Bear
Smokey
Bad
Beat the drag
Bogart
Bomb dude
Boogy
Buggin out
Bugged out
Bummer for ya
Can you dig it?
Casanova
Catch my drift
Check you later
Check ya later
Cheesier
Chillaxin
Chillin at the pad
Close the shades
Closet disco queen
Colder than a deuce
Confab
Cool man
Cool cat
Copacetic
Crawford ran
Crazy
Cya later alligator
Decent
Way decent
Dig
Do you copy
Does anybody remember laughter
Don't be a bunny
Dork
Dorky
Drag
Dude
Down with
Fake me out
Far out
Far out man
Flash back
Flat leaver
Flower power
Foxy mama
Freaks me out
Freaky deaky
Funky
Ghetto fabulous
Get bent
Gimme some skin
Going around
Good look
Good vibe
Groovy
Hairy eyeball
Heads
Jocks
Nerds
Heres the skinny
Hertz donut
Hey sunshine
Hey, what's crackin
I am out to lunch
I can dig it
I dig ya
I gotta skitty
I hate it
I like cheese
I'll call you out
I'm outtie
Jeepers Creepers
Jelly brain
Jiggy
Just because...get you
Keep on steppin
Keep on truckin
Laker
Later days
Let's blow this taco stand
Let's blow up the cheese
Let's get the groove on
The lowdown
Make groceries
Mind your potatoes
Nifty
Dorky
No duh
No fake
No way, Jose
Off the hook
Out of sight
Peace, love, and granola
Peace out home fry
Pimpin
Pop a wheelie
Psyche out
Radical dude
Radical
Raza Unida
Ripped off
Rip off
Say brotha
Shag wag
Shaggin' wagon
Shrimp farming
Sit on it
Smooth play Shakespeare
Snaps
Sound as a pound
Square biz
Stash
Stellar
Step into the past
Stoked
Stone fox
Stop dipping in my Kool-Aid
Sweet man
Ten-four good buddy
That was the joint
Threads
To go bananas
Totally awesome
Tripping
Up your nose with a rubber hose
Wally wally blood and dolly
What a goof
What a grueler
What a nightmare
What is it
What's your 20
Wherever you go, there you are
Wipeout
Wired
You ain't just a woofin'
You wanna fight? Then fight these tears
Zipperhead
How many of these phrases and words look familiar to you? Whether you were chatting in the 1970's, or are a product of the new generation of these words, chances are that you have heard at least a few of these phrases during your life.