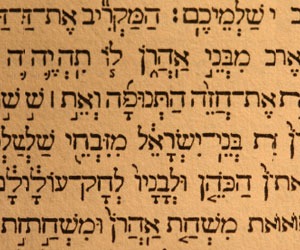 You might have heard Yiddish slang without knowing it. You might even have used it without knowing it. It's become a part of English culture, and since the English language is always interested in extending its family of words, the charm of Yiddish sayings and idioms is irresistible.
Why English and Yiddish Get along so Well
English is a language of the people. In the beginning, it evolved wholly unchecked by any authoritative or governing body. Early speakers made up words as they went, and they borrowed words from other languages without any hesitation. The only thing that's changed is that English has adopted an established grammatical structure. Some people say that goes for spelling, too, but no one really believes it. Spelling rules are nebulous at best.
Yiddish started in the streets, too. Eastern European Jews spoke with one another in ways that incorporated the words and languages of their surroundings. It became a creole of numerous eastern European languages and Hebrew. The word Yiddish is an English transliteration of "juedisch," which means Jewish in German. Yiddish is almost all transliteration; usually written with Hebrew script, it is entirely phonetic and boasts an extensive word bank whose hazy etymologies perplex, impress, and generally enthrall scholars.
Just like English, you can take Yiddish classes in high-ranking universities all over America. It's got its own set of rules and literature these days, and there are journals and newspapers published in Yiddish. Reading it and studying it might be good for some folks, but the slang's the fun part! It's a language, like English, born in slang. When non-English speakers color their own language with English slang, it's charming. Equally charming is when you add some Yiddish slang to your idiolect. Add some chutzpah to the way you speak!
Jewish culture and American culture are intertwined, and the ease with which both languages adopt new foreign terms has contributed to their dynamism. English slang includes many Yiddish terms. Yiddish and English share a common heritage in Anglo-Saxon, Germanic tongues. If you love English, you kind of have to show some love to Yiddish. If you love the way slang enables you to more properly articulate your ideas, or if you just like to have a laugh with a splash of the old world, it's time to learn some Yiddish.
Some Basics of Yiddish Slang
If you speak German, Yiddish will sound extremely familiar. Some words are just alternative spellings of German ones. If you don't speak German, worry not; it's as easy as checkers. The grammar's pretty fun, too, but when you're an English speaker just trying to pepper the way you speak for fun and profit, you don't need to bother with all that.
There are two really great Yiddish dictionaries online.
Both have brief histories of the language, and both have very long lists of all the Yiddish words you might hear. Unfortunately, you can't really break out the hard-core stuff with goyim. You can, however, peruse the lists and remember a few that will be appreciated by all. Learning another language's slang allows you to utter off-color remarks without offending anyone. In fact, foreign slang has its own charm that's undeniable and will help create an impression of yourself that is worldly and learned.
Top Ten Yiddish Slang Terms
Meschugena: A crazy woman. Meschugener is a crazy man.The knight moves in an L, not a 7, meschugener!
Bubeleh: A term of endearment for people of all ages.I call my granny bubeleh because she's old and cute; I also call my puppy bubeleh. . . my girlfriend, too.
Cockamamie: RidiculousYou're dangerous Maverick, and I don't want your cockamamie excuses!
Chutzpah: High energy or brashNot loud enough! One more time with Chutzpah!
Mensch: A good or important personScott Nearing was a grand old man, a real mensch.
Kolboynick: A know-it-allThe reason you can't learn anything from anyone else is that you're a kolboynick and think you're smarter than everyone else.
Drek: A piece of dirt or a worthless objectThis computer is dreck; perhaps if you installed Ubuntu on it, it would start running again.
Glitch: A minor malfunctionWe prefer to call the current economic situation a glitch more than a systemic epic failure.
Schlep: to drag something heavy or to get a reluctant person to come alongI had to schlep my wife's parents all around Disneyland, and all they wanted to do is play checkers in Tomorrowland.
Schmoe: A stupid or naive personHey, you're a Joe Schmoe, fallen off the turnip truck at the last turn--Jeez!
Your speech acts are now primed! Fiehl Glick!