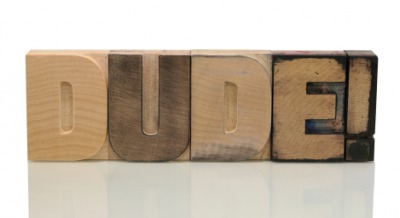 An American slang dictionary can be a very useful resource for anyone interested in learning more about how language continues to evolve throughout the United States.
About Slang in Popular Culture
The YourDictionary web site defines slang as "highly informal speech that is outside conventional or standard usage and consists both of coined words and phrases and of new or extended meanings attached to established terms: slang develops from the attempt to find fresh and vigorous, colorful, pungent, or humorous expression, and generally either passes into disuse or comes to have a more formal status." Examples of common slang within the United States include:
Ankle biter – a derogatory term for an infant or small child
Bail – leaving in a hurry
Chillin' – Spending time with your friends
For real – Speaking honestly and truthfully
Hooker – a female prostitute or someone who is behaving like a prostitute
In a New York minute – to do something very fast
Juiced – to be very excited or eager to do something
Knocked up – a woman coping with an unplanned pregnancy, usually someone who is either very young or unmarried
Queen – a homosexual man
Trashed – to be very drunk or to completely destroy someone's property
Zonked – completely exhausted, very tired
Since a number of slang terms make reference to sex, violence, drugs, or crime, the use of slang is often seen by many people as an indicator of the speaker's lower social status. Slang used by particular ethnic groups is also frequently looked down upon, although it should be noted that use of slang in everyday speech bears no relationship to the speaker's intelligence.
Slang should be avoided in most types of writing, especially academic research papers and essays. Screenwriters and novelists sometimes use certain expressions to add a touch of their character's personality to specific bits of dialogue, but this tactic can backfire if the slang is obscure and thus unfamiliar to the reader.
Although slang is informal speech, it is not equivalent to jargon. Generally, jargon refers to terminology that is associated with a particular profession—such as medicine, law, or computer science.
American Slang Dictionaries Online
Since slang is constantly changing, it can be difficult to find definitions of certain terms in a printed dictionary. Luckily, there are many different Web sites offering online American slang dictionaries. For example:
Although it's not a dictionary in the traditional sense, Slang City is a great resource for anyone interested in learning more about the use of slang in America. This entertaining Web site features articles, illustrated topical guides to various types of slang, and interactive games such as the "Random Insult Generator."
Internet Slang and Acronyms
While most people associate slang with spoken language, the Internet has spurred the creation of several new slang terms. Many of these are acronyms used to assist instant messaging conversations, such as typing "LOL" for "laughing out loud." Online Slang contains a list of the most common terms. If you'd like to translate a block of text that contains Internet slang, you may also find the interactive tool at No Slang to be quite helpful.