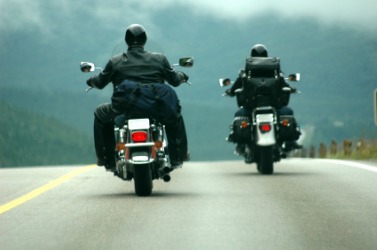 Spend any time around a group of bikers, and you're bound to become the unwitting recipient of biker gang slang. What is it they're saying? What do they mean? "Gang" is a relative term when it comes to bikers; that is, the riders of motorcycles who band together into motorcycle clubs. There are actually are legitimate motorcycle clubs, although that isn't what anyone thinks of when they think of biker gangs. That is a long-held stereotype, but it's one that has a basis in reality.
The Wild One
The stories about bikers, their morals (or lack thereof) and mores can almost be precisely pinpointed to 1953. That was the debut of the ultimate biker film, the granddaddy of all outlaw biker flicks: The Wild One, starring Marlon Brando.
It was everything about Brando and his biker gang that entranced moviegoers. They loved his sneer, his black leather jacket, the entire outlaw attitude. The Wild One, and Brando's portrayal of the biker gang leader, started a surge and interest in everything biker, including biker gang slang. That fascination continues unabated to this day.
Let it be known, though: not all biker gangs are "outlaws." In fact, the vast majority of them aren't. The American Motorcyclist Association (AMA) gives its sanction to that majority of legitimate biker clubs. They wear AMA patches, signifying their desire to be known as legit biker groups.
Many AMA biker organizations devote their time and energies to community activities and charities. They've been known to raise thousands of dollars for things like children's hospitals, and for cancer research.
They also hold sessions to teach the general public about motorcycle safety, so that the untutored riders can hop on a cycle and not cause or become the victim of an accident.
Still, for all the good they do, and the positive image they wish to portray, it's not the AMA bike clubs that most people think of when they think of biker gangs.
It's the outlaw type bikers who capture the imagination. And they do, indeed, exist, even more than a half century after Brando's iconic The Wild One performance.
The One Percenters
The outlaw bikers (those who seek that designation) have their own unique subculture. They often call themselves the One Percenters. That designation comes from a riot that happened during a motorcycle rally in California in 1947. The riots, which may have been exaggerated in the media, so captured national attention that Life magazine did a story on them.
The picture they used, of a very fierce-looking biker surrounded by beer bottles, causes the AMA to respond. They swore that 99 percent of all bikers were upright citizens.
The outlaw bikers noted that that meant it was the other one percent (in other words, them), or the One Percenters, who caused all the trouble.
To this day, the name stuck.
Biker Gang Slang
The outlaws enjoy their own subculture and biker gang slang. Bikers usually dress in the traditional black leather biker uniform, but if you take notice, you'll see many wear vests embroidered with various patches. The patches, or their "colors" as the bikers call it, have an entire slew of meanings.
They usually have patches to show which gang they belong to, and which other gangs they are affiliated with in "the Life" (the outlaw society subculture these type of bikers live in.)
New bikers who undergo an initiation rite (which may involve illegal activities, since these bikers are outside the mainstream) and are accepted are "patched." That means they've earned their stripes - or patches, in this case - and they can now officially wear the patch on their clothing.
The vest or jacket with the patch may also be emblazoned with the biker's "road name" - his nickname that he goes by in the gang.
High and Tight
Bikers who travel the road group together tightly on the road. That's called in biker gang slang riding "high and tight." It's to prevent cars or trucks from breaking into the group as they travel, an activity that could be dangerous for the bikers on their two-wheeled vehicles.
Rallies of large numbers of bikers frequently have "guards" who block off intersections and allow the biker group to travel unimpeded by local traffic.