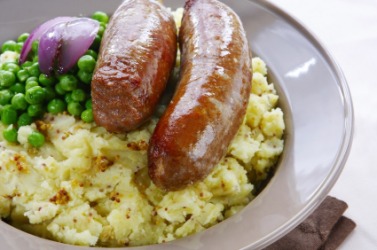 If you're off on holiday to Britain, you'd be surprised to see how handy certain British slang definitions will be. It's always nice to know what the locals are saying, and it makes it a lot easier to have a conversation without looking (and feeling) too much like a rube!
Open yourself up to the delights of the English language, especially the variety spoken in England's motherland. You'll have a blast, and learn more than a few new words that might be perfectly good for importation when you come back home.
Bangers and Mash, Please.
England may not be known as a epicurean delight, but certain English types of cuisine have an international appeal. Bangers and mash are a very popular English comfort food. A plate of bangers and mash is sausage and mashed potatoes.
Do you have to use the bog (or the loo)? Both are British slang definitions for the bathroom (specifically, the toilet part of the bathroom.)
Aggro is an abbreviation for "aggravated." If your girlfriend drives you aggro, you're extremely miffed.
If you're "brassed off," you're fed up. It's a similar usage to the American one of being "pissed" (except in Britain, "pissed" is a euphemism for being drunk, so be careful to determine if you're brassed or pissed!)
Remember the 1958 movie, Cat on a Hot Tin Roof with Elizabeth Taylor and Paul Newman? In that movie, the eponymous "cat" dances around, uncomfortable and jumpy, because of the excessive heat of a tin roof under its feet. In Britain, you could be said to be at "sixes and sevens" if you're thrashing about like a "cat on hot bricks."
What Are You, Daft?
If you're feeling stupid and confused, a Brit might say you're "daft and confuddled."
Suppose you're talking about an old lady, and you want to keep the subject of her age from her. A Brit might refer to the term "dog years" or "donkey years." That's because both animals age a good quantity of human years for every one of their animal years. (This is basically a good subject to keep out of the earshot of the lady in question. Even a gronckle - a tourist - might deliver a football bat to the side of your head!)
Someone who is less than brilliant, to put it kindly, might be called a "nimrod" (that's a Biblical reference. Nimrod is a character in the Bible who was much revered for his wisdom.)
The country is absolutely full of British slang definitions for sex, and all manner thereof.
For example, you don't want to be scrotty if you're hoping to shag a bird (in other words, take a shower before you plan on having sex with a girl.)
And of course, to bathe, it helps if you do it "starkers" (or naked, as you might assume.)
It probably sounds a bit better in Britain than it does when you're just contemplating it being said to you beforehand!
Getting lashed or plastered (drunk in both instances) is something that only a numpty (a foolish person) would do in a foreign country. That's something only a tosser would do. (A tosser is a fool or an idiot. This word's origins were sexual, but it has since evolved into a general use term for anyone who the speaker finds to be highly stupid.)
British Slang Definitions
If you aren't careful, in this dating instance, you could wake up next to a minger or a munter (that is, a very ugly person!)
If the man in question is someone you'd rather not "shag" with, just tell him to "sod off." Now you might think that phrase is much more nefarious than it actually is, but it's not. It merely means you want him to get away from you.
If you're doing a lot of sightseeing overseas, you would easily become knackered, or tired. If you see how the dollar measures up to the Euro when you get your hotel bill, the word "gobsmacked" should be in your vocabulary (that means to be astonished or at a complete loss for words.)