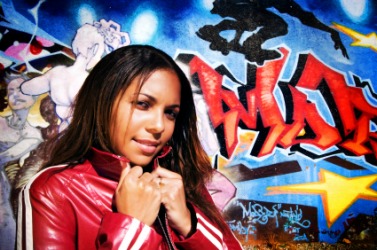 If you're interested in learning more about African American culture, a dictionary of black slang can be a valuable resource.
About Black Slang
Black slang is a form of informal spoken language whose origins are most often associated with African American teenagers and young adults. However, other individuals use these type of expressions as well. Examples of black slang include:
gangsta: gangster
bling: flashy jewelery, wearing a lot of bold pieces
grills: Can refer to teeth or teeth jewelry, or even just the face or mouth.
hang: a shortened form of the phrase "hang out" or "hang out with"
hood: People sometimes use this to refer to a neighborhood, but they usually are referring to a rather poor area. Also referred to as "the hood."
benjamins: $100 dollar bills. Named as such because Benjamin Franklin is the face on the bill.
threads: clothing
aight: Short for "All right."
holla: To get in touch with someone.
crib: home
playa: Someone who dates many people at the same time.
roll up: Show up somewhere.
straight: Often used in conjunction with "we" for "We straight" meaning that all is well.
Black slang may be considered a part of African American Vernacular English, an informal dialect regularly spoken by 80 to 90 percent of the black population in the United States. Also referred to as Ebonics, African American Vernacular English shares many linguistic characteristics associated with various Creole dialects. The vocabulary, pronunciation, and unique grammatical structures also bear some resemblance to traditional West African languages.
Since the English language draws its inspiration from a variety of sources, it should come as no surprise that a number of words that were once considered part of African American Vernacular English are now commonplace in our culture. As aforementioned, these words often stream into other groups and a wide variety of people begin using them.
Like any other language, black slang develops and changes with time. The words above are the most popular ones on the scene today.
Is Black Slang Simply Bad English?
Although there are many people who will argue that black slang and African American Vernacular English is simply a corrupted version of "proper" English, several prominent linguists have said that this form of language is worthy of further study. Therefore, it's incorrect to assume that people who use words associated with black slang and African American Vernacular English are simply too naive or uneducated to speak properly. Of course, it's still logical to believe that slang of any origin is inappropriate for use in formal settings such as a corporate business environment.
Using an Online Dictionary of Black Slang
If you're not accustomed to hearing black slang in your daily life, you may find yourself completely oblivious to the definition or correct usage of common slang terms. Fortunately, there are a number of websites devoted to helping people increase their knowledge of this unique form of the English language.
When using an online dictionary of black slang, you'll want to ask yourself a few questions to determine the reliability of the resource:
Who created the dictionary? What qualifications does he/she have to ensure that the definitions are accurate?
Is the site easy to use? Is the design clean and uncluttered? Can you find the information you're looking for quickly?
Does the dictionary include pronunciations, synonyms, cross-references, and other useful features?
Some of the most popular online dictionaries of black slang include:
Ebonics Translator offers a fairly comprehensive dictionary of black slang for anyone interested in learning the meaning of terms they've heard on television or in a popular rap song. Example sentences are given to indicate proper usage of the slang and synonyms are neatly cross-referenced for your convenience.
Urban Dictionary contains a number of definitions for black slang terms. However, since the definitions are written by visitors to the site, it can be hard for uninformed readers to judge the accuracy of the information.
The Vox Slang Dictionary offers easy-to-understand definitions for today's most common black slang terms. Unfortunately, the site offers no alphabetical index or search engine. Users must scroll through a long list of terms to find the information they need. Additionally, the sites design of red and white text on a black background may cause eye strain for some visitors.