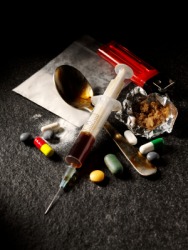 Trying to keep up with the incredible rate of change in illegal drug slang is well nigh impossible. There are literally hundreds of euphemisms for each type of drug; and, to keep ahead of the narcotic enforcement police, the drug users, dealers, and distributors keep changing the nicknames by which they refer to their drug of choice.
How can anyone possibly keep up with it? Well, the experts at illegal drug lingo are those who takes the drug, those who sell it, and those who are charged with catching either group, i.e., the police.
It's a never ending cat-and-mouse game, just trying to figure out what the latest name by which illegal drugs are called.
The sellers have a reason to keep changing the illegal drug slang, much the same way a money launderer keeps changing the bank or business through which he "washes" money from illegal activities. It keeps the cops off balance.
Sometimes It's Just Cool
It may well be the users, indulging in their favorite drug of choice, who coin a new nickname for it. That could just be because they like the drug so much, or the side effects or withdrawal of it are so harsh, that it motivates their creativity.
One of the minor reasons people indulge in drugs is to be "cool" to their friends, or to join in and show their solidarity with whatever group they're trying to join. This kind of activity can easily motivate them to keep one-upping one another to christen the drug with a new, and more witty or brilliant, nickname.
Illegal Drug Slang
Street slang for illegal drugs knows no bounds. The nomenclature evolves constantly, and sometimes old names are brushed off and reused, such as the word "snow" for heroin or cocaine. That word "snow" for heroin or its cocaine derivative dates back at least as far as 1925, when it was used in mystery murder novel that involved drugs.
Some of the nicknames for cocaine that are currently in use include: coca; cocktail (a cigarette with cocaine sprinkled on it); cocoa puff (a cocaine and marijuana cigarette); comeback; coke; coolie (a regular cigarette with cocaine added to it.)
Words that describe the crack variety of cocaine, or people who use crack, are: crackhead; crack star; crack weed (a crack cocaine and marijuana smoke.)
LSD is a hallucinogenic drug that has had something of a resurgence. Nicknames for LSD or LSD users that are popular are: Alice; Angels in the Sky; Animal; Bart Simpson; Battery Acid; Beast; Big D; Blackbird; Black Star; Black Sunshine; Blotter Acid.
These are just the start of the type of illegal drug slang that permeates the drug culture.
Other Language to Describe Drugs
Someone high on cocaine is said to be "chalked up," referring to the white powder. Going through withdrawal is known as the "agonies," while going out in search of replenishing your crack stash is called a "tweak mission."
Someone stoned on crack who has wide, crazy eyes is said to have "high beams." Mixing a cocktail of prescription pharmaceutical drugs is said to be "pharming" (as in "farming.")
There are various slang terms to describe the results of getting high on illegal drugs. People initially take drugs for the ebullient effect; to feel deliriously happy or massively creative. Some users think they are never as witty or inventive as they are when they're stoned. Others use hallucinogens to "expand their consciousness" in order to be able to create music, paint, draw, or engage in other artistic pursuits.
Other users, though, may find that the great escape they were looking for instead became a prison. Illegal drug use can cause its victims to become depressed, angry, or incredibly paranoid. They can flail away in imagined pain, or they may become violent, if, in their drug-altered state, they think someone is trying to harm them, or keep them from getting stoned.
People who are addicted to mind-altering drugs frequently aren't rational. They can also be very dangerous, which is why police approach suspects they think might be high with extreme caution.