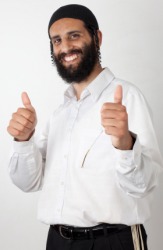 If you were walking down the street and someone called you an alrightnik, do you know enough Jewish slang words to know if you should be appreciative or offended? In the Jewish language, Yiddish, alrightnik is a slang word for something that has achieved or succeeded. So you can calm down, you were not being called a nasty name, you were receiving a compliment.
Brief History of Jewish Slang Words
In the Yiddish language, there are hundreds of Jewish slang words. The advent of Jewish slang words has only become a recent occurrence because many of the old-school, devout Jews believe that it is a sin to use slang mixed with the Hebrew or Yiddish language, the language of God. For this reason, most of the slang words used today are imported from other foreign languages. Most of the slang comes directly from the Israeli, Arabic and English languages.
The usage of Hebrew or Yiddish as an everyday speaking language did not used to be as prevalent as it has come to be today. Most of the Jewish people were fluent in other languages and then took on the language of their religion afterwards. As phrases came to be passed along and humorous words or phrases borrowed, slang began to grow and advance in the Jewish populations.
A Few Funny Examples
Now that the history is over with, we can get to the funny stuff. Alrightnik is a decent example of more proper slang word to show respect to someone else. However, there are many slang phrases that are very funny. Do you know what they call a Jewish woman's breasts? They are literally referred to as Joobs, no pun intended. If you want to tell someone that you would really like for them to kiss your backside, you can tell them "hey, why don't you kish mir en toches?" I am sure you can have a good time using this one in your everyday language.
List of Slang Words
With the advent of the Internet, you can run an easy web search on almost any search engine for "Jewish slang words" and come up with millions of web sites that touch on the topic. From just a few of those sites, here is a short list for you to enjoy. Be a Mensch and learn them all!
Shmendrik — This means that the person is a jerk, but MUCH bigger than a normal jerk. He is the master of all jerks.
Tsuris — This refers to troubles, troubles that are so big that you beat your head in trying to pronounce this word to tell someone about them.
Yutzi — This refers to something or someone that is stupid.
Yiddishe Kup — This phrase literally stands for "Jewish head". Similar to that of butt head or get your Jewish head out of your Jewish backside.
Shiksa — This is what you will be called if you are unfortunate enough to be a Non-Jewish woman.
Shagetz — This is what you will be called if you are unfortunate enough to be a Non-Jewish woman. Meshugeneh is a crazy, insane woman. You can also use the Jewish slang word klip, which stands for a gabby woman. (Why are all these slang words mocking women, you might wonder? And where are the ones for men? You'll have to explore some more Jewish Slang dictionaries and see if you can find them!)
Related Links
Yiddish Dictionary Definitions: Silly Music provides a long list of Yiddish slang words, from the serious to the surreal and funny. In other words, all the Chachkes can be found here. Words and definitions are included.
Hebrew Slang Guide: The Jerusalem Post provides you with a laundry list of all of the slang words you will need in order to speak like the cool kids on a trip to Israel. You'll be a regular Shlager once you learn all of this great slang.