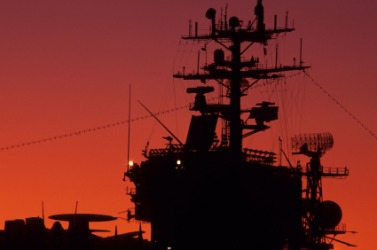 The Navy has a long and colorful history, one that matches the naval slang terms sailors use with aplomb. The slang is genuinely funny, once you get someone to explain to what all those acronyms mean and is often developed to say something colorful without getting into trouble with the brass for it. The slang communicates a very wry sense of humor, with an arched eyebrow towards officers, protocol, and anyone with a supercilious attitude. So what kind of naval slang terms are most amusing for the layman?
It's All in the Numbers
The "90 day wonder" - this is the mocking description designated for officers who just graduated from the Officer Candidate School. Sailors also typically expand upon the description with sallies such as "90 day blunder" or "90 day miracle."
Women are at a premium at sea, and sailors are extremely attentive...but a woman who may not be a beauty queen on land becomes one when members of her sex are in the extreme minority. Sailors call a less than gorgeous woman a "2-10-2"; that is, she's a 2 on a scale of 10 when you're in port, a 10 at sea because of the dearth of available females, and once you return to land, she becomes a 2 again.
No one can ever accuse members of the navy of being shy and retiring!
How about a sailor who is lazy at his job? His fellow recruits call him a "2-6-10." That's an incentive for the idler to get a move on with his work; that's because the numbers decoded mean it will take two surgeons six hours to remove a boot implanted in the slacker's rear end. This apparently serves as an immediate spur to the gold bricker's productivity level!
Rest and Relaxation
Naval petty officers occasionally need a break from all the work of telling the regular enlisted men what to do. They take time out for a beer at the "Acey Deucey Club," a retreat for 1st and 2nd Class Petty Officers.
The rest of the sailors might be stuck watching television. For those overseas or on a ship, the television programs they're watching are programmed and sent to them by AFRTS (pronounced A-farts.) It stands for Armed Forces Radio and Television System. (These guys would probably trade a TV for the petty officers' beer.)
Of course, when the sailors get paid, they take their money and go out on what they call "Amateur Night." That's what happens when men who are anxious for some R&R get too much money all at once, and have a limited amount of time to spend it. (it's also called being broke the following morning.)
More Naval Slang Terms
How about the more traditional naval slang terms that everyone remembers from the movies? Remember hearing a pirate with an eye patch, a wooden leg, and a parrot on his shoulder say to his crew of cutthroats, "Avast, ye mateys!"
What exactly does that mean? "Avast" is a loose translation of the French, meaning to "hold fast," or in colloquial terms, for the sailor to stop what he's doing.
Another popular movie usage of naval slang is even the name of a popular musical - "Anchors Aweigh." Notice it's "aweigh," and not "away."
This refers to the raising the anchor on a ship. When it's "aweigh," it's no longer holding the ship in place, but even if the ship isn't moving, it's considered to be under way to its destination.
A diver in his hard hat Navy gear is referred to as a "bubblehead" because of the appearance of the helmet on his head.
A newcomer who isn't savvy in the ways of sailors, or on his first tour of duty, is called a NUB. In more recent computer parlance, it can be referred to as a "newbie," but it's actually an acronym for an older term. Sailors mean someone who can't help because they're so green, so he is a Non-Useable Body.
During "man overboard" drills, sailors use a dummy to throw into the sea that they nickname Oscar. Maybe it's complete coincidence, but the title they give to their commanding and executive officers is also Oscar (and they probably aren't talking about the Academy Awards.)