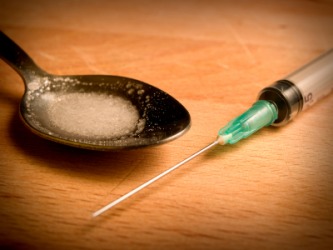 The reason why there are so many slang terms for heroin, a highly addictive derivative of morphine, is to keep the drug "cool" for users, and to keep the police agents who are looking for the heroin suppliers always guessing. In fact, heroin is such an undercover, or "hard" drug, that the only place you might hear it called by that name is in a courtroom or police station. Horse, smack, H, junk, even the relatively attractive "china white" (so termed for a more refined version of heroin), there are as many names for the addictive and illegal drug as there are addicts.
Heroin Is "Heroic"
Interestingly enough, the word "heroin" was the word the German-based drug company Bayer gave to this new synthetic drug they invented for the "heroic" feeling it gave its users.
In the nineteenth century, many people worldwide had become addicted to cocaine, which was highly addictive and had a horrible variety of side effects from psychological and physical drug dependence.
Bayer had been looking to synthesize another drug that would be comparable to morphine (an opium derivative) in painkilling ability, but wouldn't have the horrendous side effects of addiction and dependence.
Instead, the drug they invented proved to be twice as powerful as the morphine it was supposed to replace.
In that era, morphine was so commonplace in society that even babies were given laudanum (a solutionized opium concoction) to "quiet" them. Many patent medicines likewise were liberally laced with opium and morphine; these drugs provided the painkilling "kick" addicts demanded.
Bayer first marketed its heroin drug in 1897. A year later, they were exporting it, in a cough medicine solution, to 23 countries. Doctors began to notice that their patients were becoming heavily addicted to the Bayer cough medicine.
By 1913, Bayer pulled its heroin cough medicine from the market, but the damage was done.
Slang Terms for Heroin
Ironically, heroin wasn't illegal, even though doctors and authorities began to see the damage the heroin-laced cough medicine had produced.
In the United States, the Heroin Act of 1924 criminalized heroin. The manufacture and possession of the drug were made illegal.
But the nicknames for heroin were still in play in a society that had become addicted to the drug. A 1926 novel, The Murder of Harry Ackroyd refers to "heroin snow," which is ingested by sniffing.
"Snow" was a slang term for heroin in that era, but there were many more slang terms to come.
Uptick in Users
Although it was always prevalent at the fringes of society, heroin was considered to be an underground drug for most of the rest of the century. It was popular in certain circles, such as with 1950s "beatniks." William S. Burroughs, a Beat Generation author, described the drug and its affects in his 1953 novel, Junkie.
The Man with the Golden Arm, a 1955 Otto Preminger movie starring Frank Sinatra, was the first major film to deal with the affects of heroin addiction. Sinatra's character undergoes a particularly grueling onscreen withdrawal from heroin addiction.
The word "junk" was just another one of the slang terms for heroin. The hippie revolution of the 1960s opened the door to many drugs well-mannered middle class teenagers would never have used.
The American entry into the Vietnam war was also pointed to by some critics as being a major source of heroin addiction, one that soldiers leaving that country would take back with them to the United States. By 1971, it was estimated that as many as 15 percent of Vietnam War veterans were heroin addicts.
Grateful Dead guitarist Jerry Garcia had been addicted to the drug for years. He died in 1995 at the age of 53 at a drug rehabilitation facility, after yet another attempt to kick the habit.
Current Terminology for Heroin
Popular current terms for heroin include black far, Mexican mud, smack, and scag. Heroin, when mixed with other illegal drugs, creates an entirely new subclass of slang terms: A-bomb (heroin with marijuana); bombitas (heroin with amphetamines); dynamite and speedball (both use a combination of cocaine with heroin.)