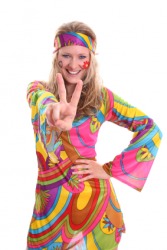 If it's boss, hip, or happening, you're bound to be listening to some of the utterly groovy slang words in the 1960s that still resound with a literary impact on today's language.
The 1960s were a time of social upheaval and disruption, but also a time of extremely colorful dress, music, and of course, slang. Some of those same slang words are still in our vocabulary, and in some cases, prominently so.
You can't go anywhere or engage in any conversation without hearing someone use the word "cool." Like in the 1960s, it carries the same meaning as a positive exclamation, as in, "that's great!"
Hey, Man! That's Boss!
Back in that turbulent decade, you might expand upon the "cool" with a word like "boss." That means something that is really, really cool.
Among the 1960s hipster contingent (probably called "hippies"), the lingo included lots of words to describe superlative experiences. Something that was wonderful would be "outta sight" (as in so great, you just couldn't take it all in.)
If a concert was groovy, it was both outta sight and "happening" (that is, wonderful and very up-to-date. Having the latest and newest of anything, then as now, is of extreme importance to those who are truly hip.)
If an event was "righteous" (another word resurrected by teens in the 1980s), it was fantastic. If all music lovers were in agreement, they'd be high-fiving one another with a collective "right on, dude!"
In the dating arena (or "scene" to a teenager in the 1960s), a girl was a "chick" while the guy, would be a "dude." A really pretty girl, one you really wanted to date, would be considered "choice." If she refused your advances, you might be "bummed out" (depressed or upset that she didn't give you the time of day.)
Maybe the problem was with your bread. No, we're not talking whole wheat or rye here, we're talking about "bread" as a 1960s synonym for money.
A lack of bread would be enough to bum anyone out!
Slang Words in the 1960s
Since being cool was of such importance, the worst thing to happen to you (maybe aside from lacking bread) was to be labeled as uncool. Take the word "spaz." That word was briefly revived in the 1980s, and then meant someone who was a jerk ("spaz" as in spastic, someone who couldn't control themselves or act properly in social settings.)
Such slang words in the 1960s were devastating. To a 1960s flower child (the predecessors of hippies), being called a spaz was tantamount to be called mentally unfit. Or, as the teen might say in those politically incorrect times, "retarded."
Despite the casual environment of the 1960s, it really was a time of extremely strict social rules if you didn't want to be ostracized by your pals.
Got a Joint?
Drug use hit a new high in the 1960s, and it came out of the shadows where addicts poked themselves with needles, into the limelight where it was seen as cool.
One of the most common drugs that anyone used was marijuana (known as "pot" or "MJ" to hippies, big users of the stuff.) Smoking (or "toking") pot had a tendency to give the user the munchies, and thus they'd be counting their bread and run out of the house to "scarf down" or "pig out" on any available junk food, like Cheese Doodles or Ring Dings.
If you were scarfing or pigging, you were eating quickly and eating indiscriminately.
Many slang words in the 1960s spoke of a contempt for authority. The boss at work was "The Man." The cops were either pigs (a slur to express disdain), or a bit more politely, "the fuzz."
If you stood a chance of getting caught with a joint (a pot cigarette), you'd book (run away quickly) from the pigs! That's because in those days, society was much less tolerant of marijuana use, and being caught with any quantity could easily land you time in jail, and the distinction of being a "drug addict."