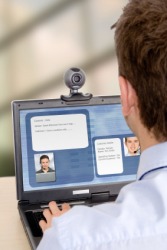 With all the web interaction everyone gets these days, it's critical to be well versed in web chat slang, especially if you want to save your fingers from excessive typing. Texting, IMing, emailing, communicating in chatrooms - these modes of electronically "talking" to friends, family, and total strangers have their own particular and peculiar lingo. The words, abbreviations, and acronyms are interchangeable; that is, when something unique develops in one area of e-chatting, it has a tendency to pop up in other areas. Why do people engage in web chat slang? Do they enjoy it? Is it taking the place of normal, responsive human talk?
Chat Is Here to Stay
People love chat because it's time efficient and to the point. It gets said what needs to be said, and usually in the shortest possible way.
Anyone who was in a coma for the past 10 years, though, might be acutely puzzled as to exactly what these people were saying!
People chat online, whether through a cell phone, a BlackBerry, or other device, simply because it's easier than picking up a phone. They also might find it easier to text than to say some things that might be difficult to say. Texting puts a layer of technology between you and the other person.
This might be great for purely business means of communication, but it can get a little strange, to say the least, when it's being done between spouses, romantic partners, or best friends.
Some people, in fact, seem to think they're so addicting to electronic communication, it's almost as if they did forget how to talk on the phone - and forget having a sustained conversation in person!
In fact, some people are so addicted to texting that they start doing it in front of other, while they're supposed to be talking to the person who is present. That isn't just rude. It has a tendency to drive the other person batty.
But texting, IMing, and other types of messaging are here to stay. While it helps to remind your friends and family members it's rude to text in a theater or while you're sitting down to dinner (and it can be downright dangerous for the fools who insist on texting while driving), it's clear that electronic chatter is here to stay.
Web Chat Slang
What are some of the best type of web chat slang you should know if you're going to dive into this 21st century text pool?
Some are obvious abbreviations: BF and GF, boyfriend and girlfriend. Some are a little more obscure. If a teen is worried about a parent snooping about, they might quickly type "MOS" or "DOS" (that is, mother over shoulder, or dad over shoulder.) A POS is a "parent over shoulder," which means to keep mum until the parental threat passes.
Anyone who has been online at all is familiar with OMG ("oh my God"), G ("giggle"), or the staid LOL and ROFLOL ("laughing out loud" and "rolling on floor, laughing out loud.")
But a BFF and a BF4L might elude anyone older than 16. The former abbreviation means "best forever friend," and the latter is "best friend for life."
Other terms that are popular in chatrooms are a/s/l (as in "age/sex/location," which means you're probably in a pickup chat room.)
If you have to make a quick run to the bathroom, or you're dying for a cup of coffee, you might want to leave the keyboard behind. It's only polite to let people you've been chatting with that you aren't there, so they aren't typing into a black hole. A quick "afk" (away from keyboard) or "brb" (be right back) lets them know you didn't drop dead at the computer, or that you are ignoring them.
Other great typing timesavers are: IMHO (in my humble opinion); BTW (by the way); LTNS (long time, no see); and OTHO (on the other hand.)
Of course, you may want your texting pal how bright you think he is when you both come up with the same idea. In that case, you'd type GMTA (great minds think alike.)
And occasionally, before you sign off, you have to get back to what matters IRL (in real life.) But sometimes chat slang seems just as real and significant as the person sitting right beside you.