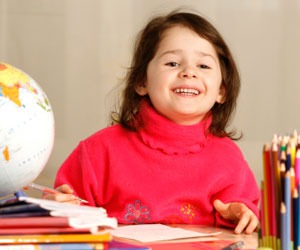 Second grade spelling words are going to be a student's first jump into the weirdness of English spelling, but there's no reason to be weird about it. Yes, spelling in English is strange and difficult, and yes it's a life-long endeavor, but the crazy realities of English spelling start here, so it's best to dive into them in the best way possible.
How Many Second Grade Spelling Words?
How many second grade spelling words a student should learn depends a lot on how many weeks school is in session. A good starting point is 20 words a week. 20 seems to be pretty standard and the most one little brain can handle. To adults, 20 seems like a quite a few, and it might seem that way to students, too, but young brains are like super-absorbent sponges when it comes to language. They are hard-wired to learn as many words as possible.
The longer the student is in school, the more words he or she will potentially learn. Since spelling is a subject that they will be learning for the rest of their lives, you don't really need to worry about that too much. If your son's school is in session fewer weeks than your neighbor's daughter's, don't sweat it. If you try to squeeze in more than around 20 words per week, you run the risk of confusing your second-grader, and that doesn't help anyone. Besides, spelling is a quality over quantity situation. A good list will provide students with words that will teach them about how to spell other words. Words that get them thinking about how to spell others helps build instinct. Since most second-graders still don't run around with smart-phones and netbooks, with which they could look up everything on Your Dictionary, building instinct is still their best bet.
Why Should Second-Graders Care about Spelling?
This might seem like a silly question to ask, but administrators, school boards, parents, teachers, and anyone else having anything to do with setting school curricula have at one time asked it. After all, if you know what a dog is, what does it matter how you spell it?
The debate on whether schools should teach spelling comes up every few years for various reasons. Today it arises because computer software automatically checks a writer's spelling. Adults depend heavily on spellcheck, and there's no putting that genie back in its bottle. Students will use spellcheck, too, and they'll ask their teachers and parents why they should learn how to spell the old-fashioned way. The answer's not as simple as it seems.
For better or worse, western languages are made up of letters. Those letters each have their own personalities. They sound different depending on which letters they share words with, and even on their own, they can be tricky. Those personalities are important because they are what make the sounds of words. Words, in turn, build a language. Language creates thought. Being a good linguist or a person who understands the idiosyncrasies of the building blocks of language helps a student be a good thinker.
That logic might seem chopped or even against common sense, but common sense dictates that human beings create words as they are thought, which is utterly impossible. Nothing is more difficult to imagine than an idea without words. Luckily it's easier to explain to young minds, who are used to thinking about fantastic things and are open to more. If a students asks you why they should learn spelling, tell them that the better they know words, the better ideas they'll have. If that doesn't win them over, tell them they'll look stupid if they don't know how to spell dog.
What Kinds of Words Should Second-Graders Learn?
English letters are divided into two categories: vowels and consonants. The vowels are aeiou, and the consonants are everything else. Vowels have several sounds each. Consider the difference between the "u" in union and fun. When making lists of words for second grade students, it's important to work in units. Some teachers like to work with short and long sounds, alternating over weeks, but that's not the only school of thought. Since 20 words is a good working number, divide them into quarters. Five words with a short "u," five with a long "u," five with a hard "t," five with a short "t," for example. In the next week, be sure to include some words that review those sounds.
Here is a great collection of second grade spelling words.
How Should Second-Graders Study Spelling Words?
In the second grade, students receive all sorts of school supplies from their hopeful parents and relatives. In the heap of supplies are usually reams of wide-ruled notebook paper. Every year, students throw unused wide-ruled paper away or fill their closets with the virgin leaves. Don't let that happen to your student! Fill those sheets up with spelling words!
If your student writes each word five times, they will write one hundred words every week. That helps their hand-writing skills, it helps their note-taking speed, and it lodges those words into a student's memory. Some people say that seven is the magical memory number, but five often suffices. The key is repetition. Is that a boring way to remember words? Maybe, but you have to crawl before you walk. Plus, they should get used to sitting in one spot and writing things over and over again; it's ten more years until they graduate from high school. Perhaps next year will involve more exciting ways to remember things.