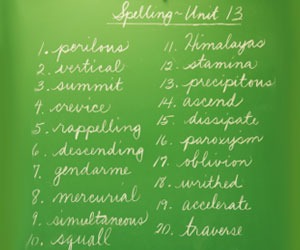 Although spelling words are stressed more heavily in the lower elementary grades, 8th grade students are still expected to be developing their spelling skills. Students should be familiar with about 15,000 words at this point.
A key component of the 8th grade spelling curriculum is making sure students know how to apply standard English conventions to determine the correct spelling of an unfamiliar word. For example, a student in 8th grade should understand that if a suffix starts with a vowel, such as –ing, and a root word ends in a single vowel and consonant, the final letter will be doubled. In this way, the 8th grade student is able to determine that stop becomes stopping and drop becomes dropping. Other concepts commonly incorporated into the 8th grade curriculum include:
prefixes
compound words
irregular spellings
correct use of the apostrophe
-tion and -ion
silent e words
words with ch sounds
spelling the sounds of wh and ch
consonant digraphs with f and ph
Spelling Words for 8th Grade Students
Since 8th grade spelling lists can vary by school, the best way to help your child improve his/her spelling skills is to ask the language arts teacher for word recommendations. However, examples of spelling words that may be considered part of the 8th grade curriculum include:
abbreviate
absorbent
accept
access
accessible
accessory
acoustics
accumulate
acknowledgment
adjust
aerial
allotted
already
altercation
amass
amendment
amorous
ancestor
anecdote
angular
antiseptic
architect
arrangement
asphalt
assignment
asterisk
attorneys
audible
aviator
bachelor
bankruptcy
barbaric
bask
battery
behavior
benefited
blanch
brilliance
budget
bulletin
business
cachet
callus
cancellation
canvas
cashier
catastrophe
centripetal
characteristic
chaste
cinnamon
classic
collateral
colleague
college
comedy
commerce
commercial
committee
communicate
commuter
compel
compensation
competent
consider
contiguous
council
counsel
country
creator
critique
customary
customer
daybreak
deceive
defendant
desolate
detain
devour
diagnosis
diffidence
diminish
disappeared
disapproval
disbursement
discernible
discrepancy
disinterested
disoblige
dissociate
distress
diurnal
divine
domestic
domesticate
dominance
easier
ecstasy
effect
eject
eligible
eliminate
encouragement
encyclopedia
epic
equilibrium
erroneous
especially
exceptional
excessive
existence
exotic
expression
extremity
feud
flexible
flout
fluorescent
folklore
forcible
fortunately
franchise
frivolous
frostbitten
further
galaxy
galling
genuine
gnawing
gorgeous
grotesque
gymnasium
handicapped
handling
handsome
haphazard
harness
hazardous
headquarters
humidor
idiosyncrasy
impatience
impinge
incandescent
inconsolable
indelible
inept
influence
innocence
innumerable
insistent
insoluble
integrity
intensify
interrogative
irksome
irresistible
irrevocable
issuing
itemized
jewelry
judicious
juror
justifiable
landslide
legitimate
leisure
liaison
library
license
lieutenant
loophole
lunar
luncheon
malicious
markup
mattress
mesmerize
meteor
metric
mischievous
misgiving
modern
modicum
mystery
negligence
neon
neutral
newsstand
noticeable
notoriety
nuisance
numerator
nylon
obesity
oblique
obstinate
obsolete
officious
opposite
optimism
oregano
overrate
pageant
parliament
passable
paucity
penalty
perseverance
personality
picnicking
plaintiff
poignancy
poignant
potential
prospectus
quest
questionnaire
quixotic
radioactive
rapacious
rayon
raze
recently
reconcile
relevant
relief
repulse
revive
rhyme
rhythm
roommate
roster
sanctuary
sandwich
scarcely
schedule
schism
scholar
schooner
sedition
semester
seminary
session
solitary
subvert
statutory
terrific
thieves
tragedy
transient
transmutation
turpitude
tyranny
unacceptable
unique
unmoved
usher
utopia
vengeance
vocal
voucher
withhold
wrestle
written
The Ed Helper Web site also has an interactive tutorial that you can use to create printable worksheets tailored to typical 8th grade spelling lists.
Practicing Spelling Words
Since 8th grade students are quickly approaching high school, they often view practicing spelling words as a bothersome chore. Therefore, helping your child to develop strong spelling skills may require a bit of creativity.
Encouraging your child to participate in a spelling bee may be a good tactic if he/she enjoys competitive activities. Some students also find it useful to write short stories using all of their spelling words. For more suggestions on fun ways to help your child practice his/her spelling words, check out the yourDictionary articles on Spelling Activities and Spelling Enrichment Lessons.