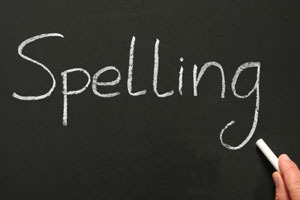 Have you ever been writing something and thought, "I really need to practice my spelling?" You are not alone. Very few individuals have gone on to become spelling bee champions.
The majority of English language speakers struggle with some aspect of spelling. This situation has become direr in the last several decades with the advent of spellcheckers that are standard features on all word processing programs. Much like calculators negatively impacted the average person's abilities to perform simple mathematical functions on their own, spellcheckers have taken much of the urgency away from needing to know how to correctly spell. However, there are still many reasons why an individual would want to improve her spelling in the contemporary world.
Why Would I Want to Practice My Spelling?
The following suggestions highlight some of the reasons why spelling remains an important skill in the 21st century.
Handwriting
The days of the prominence of hand written communication are obviously in decline. Email has become the standard written form of communication of the new generation, prediction functions on cell phones help users compose text messages, and many writing projects for work and school are completed with word processors. However, humans have not completely abandoned the act of handwriting. People still send post cards from vacation spots, and holiday cards still arrive through the mail to a large degree.
For students, many in-class tests in English, History, and Composition classes are completed via handwritten essays. In these cases, failure to command adequate spelling skills will negatively impact the student's grade. When you are in a situation where you are composing something by hand, failing to notice spelling errors in your writing can overshadow your good intentions and good work by drawing attention to the errors in your text.
When the Spellchecker Fails
The spellchecker on your computer isn't perfect. It looks at a word you have typed and checks that there is, in fact, a suitable word in the English language that is spelled like the word as you typed it. If there is, it moves on. While this sounds good in theory, there are many times when it comes up short in practice. Consider the following example:
"I went to there house last night."
The spellchecker on your computer would look at the above sentence and not see a problem with it. "There" is an English word that is spelled correctly. However, it is the wrong word for the above sentence. The correct spelling of the above sentence is "their," but you have to know this yourself. The spellchecker will not save you in every instance.
Word Games
While much of written communication today is semi-protected by the safety net of electronic spellcheckers, the timeless joys of word games rely heavily on players being able to spell correctly. Crossword puzzles are a classic example. If you have the best vocabulary in the world but can't spell, you will continue to have difficulties completing your favorite puzzles. Anagrams, ferret word games, and other popular linguistically oriented puzzles are also heavily reliant on players' abilities to spell competently.
Online Sites Where You Can Practice Spelling
If you ever get the thought, "I really need to practice my spelling," please check out the following sites: