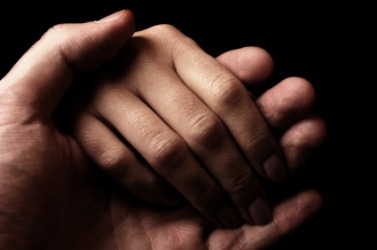 Comforting words at the time of death are a hard thing to figure out. Your loved one is going through emotions that are hard for him to deal with; therefore words that comfort are always a way to help him with his grief. Little words mean so much to someone during this time in his life.
We know that dying is a part of life, but when such an ordeal occurs, we are never prepared. We have issues dealing with the emotions. We either break down or shut down--- whichever the case, they are both stages of grieving. We then need to try to focus on what will give our loved one comfort in their time of grief.
There are many words to say and there are many words you should not say during this time. There are also ways in which you should and should not act. You want to help your loved one out during their time of need. However, you do not want to upset them any more, so it is good to evaluate your behavior in your assistance to them.
Comforting Words at the Time of Death
The most obvious words that you can say to a loved one during this time is that you are sorry for their loss. This small little phrase can mean a lot to someone to let them know you care. Let your loved one know you are there for him and if he needs anything to let you know.
Tell your loved one of the memories you have of the deceased. Knowing you think so much of this person will let him know how important they are to you. If they do not feel like talking at this moment, let them know you will be there for them when they are ready to talk.
What Not to Say
Comforting words at the time of death do not include those words that are so very cliché.
Do not cry: People do not want to hear that they should not cry during this time. At this very moment their heart is breaking and crying may be their only way of releasing their pain.
I know how you feel. You may have suffered loss and you may remember how horrible you felt. However, these comforting words at the time of death are inappropriate. It is not the time to focus on you but to focus on your loved one.
Time heals all wounds. This phrase may be true, but your loved one could really care less at this moment.
It will get better. Right at this very moment your loved one does not see this, so if going to say something make sure it is something they would really want to hear.
Ways to Act
Behavior is so important when helping a loved one deal with grief. Acting in strange ways may make them feel uncomfortable, so just be you. Here is a list of things you can do that will be appreciated.
First and foremost act natural. The more uncomfortable you are the more uncomfortable they will feel.
Sometime silence is the best way to help the grieving person out. Just being there for moral support can make a world of difference.
Offer help, but be specific. At this time they are not thinking clearly, so they will not ask you for certain things. If the dishes need washed, offer to wash them.
Offer to run errands. Pick up dry cleaning or go to the grocery store.
Drop off food to them. During this time they will not feel like cooking.
Ways Not to Act
There are also ways in which you should not act during this time of grieving. Prying into personal matters is not going to help your loved ones out at all. Allow them to grieve in their own way and if you ask a question run it through your head before saying it out loud.
Asking questions about the death is absolutely off limits. They do not want to talk about it or rehash the devastation to you. Talking about the deceased is fine, but only focus on the wonderful things you and your loved one remember about him or her.