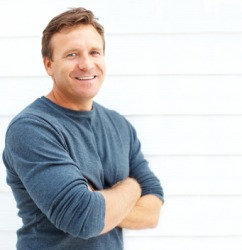 When it comes to talking about a guy, many women may find that they are at a loss when searching for descriptive words for a man. Depending on the mindset of the individual who is compiling the list of descriptive words for a man, you might find that many of the words that are used as descriptive words for a man can be used to describe just about any person. Sometimes words can be limiting, however, when used in the proper context you just may find that the sky is the limit regarding the choice of words that are used.
Background Perspective
Usually when it comes to describing a man, people tend to go for more masculine oriented words. They may opt to use powerful words as well. Often when describing a man, there is a tendency towards using words that align with the stereotypes that society has about men. There is also a tendency to agree with the social conditioning that the world projects onto a man. Some of the words that put that stereotypical social conditioning in motion are: status, compete, power.
Descriptive words of a man are directly linked to the internal and external belief barriers towards their career, life and success in both. Some of these words can be considered self limiting. Here are a few words that fit the profile:
Personal power
Collective power
Performance
Groomed
Not emotional
Protector
Most words that are used to describe men seem to give an implied meaning of something that may or may not be there.
Descriptive Words for a Man – The Roles
Joker: Former class clown, turned all around funny guy that makes people laugh for a living. "Laughter is part of their maske of masculinity."
Jock: Aggressive, attractive, nice body. Uses his strength and body mass to impress women and scare men. Avoids dealing with emotions – he may consider being emotional as being soft. He showcases power and strength in order to win the affection of women and the approval of men.
Strong Silent Type: Stays to himself, yet is an ordinary guy. Women may flock to him due to the mystique that surrounds his persona. He can be rough, strong and sensitive. The focus here is on being in charge and being in control.
Big Shot: Conceited. A player. Can be cocky, arrogant, and harsh. He is defined by his status in life as being the apex of success with all of the money in the world in his bank account.
Action Hero: Strong, not silent. A protector type. Can be excessively aggressive and can engage in violent behavior.
Buffoon: Has a tough time parenting and dealing with issues at home or at work.
General Words Often Used to Describe Men
Below you will find a general list of words that are commonly used when referring to men: Strong, tall, big, handsome, studly, rough, tough, charming, robust, protective, hero, powerful, aggressive, funny, player, cocky, arrogant, hard working, nice, sexy, cutie, short, fat, fit, bald, hot, smart, guy, athletic, broad, sculpted, attractive, good guy, dependable, reliable, helpful, good friend.
It can be said that there are hundreds of words that can describe a man, it all depends on the context that the word is being used in. Before flipping through a thesaurus for a descriptive word, you should consider the context of the situation regarding the man that you are trying to describe.
Are you providing a general description or are you describing the guy in a certain situation? Is the man someone that you know or just a random passerby? Think first about what the man may be wearing. Use the outfit and his demeanor as your starting point. This makes for an ease of selecting words that you intend to use to describe the individual. From that point you can work on selecting words that describe the man in the context of what he is doing and the particular social role that he may hold.