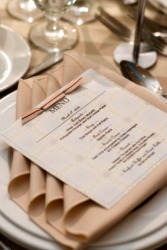 Finding descriptive words for menu copy is an easy thing to do. All you really have to do is focus on the overall concept of the restaurant. For instance, if you were looking for descriptive words for menu copy for a tapas type of restaurant then you would want to focus on enticing the patron with the food items. This is probably a standard rule of thumb for all restaurants, but when it comes to tapas-styled restaurants you will want to take the focus away from the portions being so small. Using the right method of finding descriptive words for menu copy is the best strategy to use when putting a menu together. The aim is to make the patron yearn to want to order just about everything on the menu.
Importance of Words as Metaphors for Taste
It is important to realize that as you write the descriptions of the food items that you be as specific as possible. You have to convey tastes, smells, emotions and the effervescence of the aftermath. It is your menu that will help boost your sales, more so than anything else. Think about it and you will see.
As you embark on your menu writing venture, think about how you feel when you read an item on a menu that gets you excited to learn more about the food item. It in a sense entices you to want the item immediately. And when you are reading about the item, it should seem that no other item on that menu can have an effect similar to the one particular item that you are reading about. This the key to making your menu the key sales booster that will surpass your advertising.
Many of the words that you can choose from include all things alluring. Here are a few words that you should consider: melding, texture, flavor, bittersweet, tangy, juicy, fresh, delicately, sassy, dance dangerously, palette, yummy, irresistible, taste sensation, tasty vacation, paired, parallel, second to none.
Descriptive Words for Menu Copy – Sample Menu Copy
Let's assume that you have been tasked with the challenge of writing menu copy for a restaurant and you have to write about a Spinach and Artichoke Dip appetizer and maybe a pairing of a dessert item and a glass of wine.
Let's start with the appetizer. Keep in mind, that your job as the writer is to be as descriptive as possible while luring in the customer. Do not compromise the integrity of your writing or of the menu item by doing a "cheap and dirty job." Instead, take your time and think it through prior to writing.
If the restaurant gives you,
"Fresh artichokes and creamy cheese. Served with crisp tortilla chips."
Then you can change it into,
"Tender artichoke hearts sumptuously melded between spinach and five Italian cheeses. Serve with fresh out the oven, crispy tortilla chips."
The abovementioned is but one example of how you can put a descriptive spin on a menu item using words and catch phrases to make it more appealing. Below you will see another example, only this time the menu item is a wine and desert pairing.
Let's say that you are pairing a desert wine with a cheesecake. The only desert wine offered by the restaurant is a Moscato d'Asti by the name of Saracco.
The restaurant gives you,
"Try our chocolate cheesecake with a tasty glass of Saracco Moscato d'Asti."
You can change this to,
"Pair the sparkly, candied essence of a glass of Saraccos Moscato with the rich, plush and airy, semisweet chocolate cheesecake."
The use of descriptive words as menu copy can make or break the volume of customers that would normally come to a restaurant. Hopefully the above mentioned examples have made writing menu copy a bit easier for you. For more information on menu copy writing tips and the use of descriptive words you can take a look at menus of your favorite restaurants online.