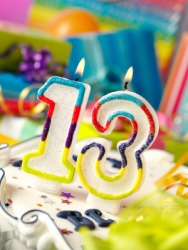 Do you need some encouraging words for 13th birthday to put in cards, emails, or just to say? Following are some good quotes and also party and gift ideas.
Encouraging Words for 13th Birthday
Here are some encouraging words for 13th birthday. These are on the serious side:
I wish you happiness and joy in life
.
And many more birthdays to bring you delight.
If you have a positive attitude and constantly strive to give your best effort, eventually you will overcome your immediate problems and find you are ready for greater challenges. Pat Riley
If you think you can, you can. And if you think you can't, you're right. Mary Kay Ash
Imagination will often carry us to worlds that never were. But without it we go nowhere. Carl Sagan
It doesn't matter if you try and try and try again, and fail. It does matter if you try and fail, and fail to try again. Charles Kettering
Here are just a few more encouraging words for 13th birthday that are on the lighter side.
When you stop to think about it, you're only ONE DAY OLDER than you were yesterday…And for that you want a present?
It's frustrating when you know all the answers, but nobody bothers to ask you the questions.
All the world is birthday cake, so take a piece, 
but not too much. George Harrison
Teen Birthday Party Ideas
After 12 years of kid's parties, you may want mark the 13th year with something a little more grown-up. Here are some ideas to help you out:
Outdoor parties can be fun. Throw a luau in your back yard. You can go online and check out one of the cheap party supply companies to get your supplies. There will be other things as well, like games and other activities. Don't forget the music for the limbo and hula dance. If it is not the right season, have a luau inside the house or garage.
If you have the money, and your child could limit the number of guests, have a limo and event party. If there isn't a game or concert around the time of the party, just pick up your guests and drive around, go to the mall for a bit, go to the movies, or do all of three. Make sure the limo has drinks and snacks.
Go retro with a 60s party. You could even have tie dye for everyone to do as a party favor. Have beads, lava lamps, flowers, and peace signs to set the mood.
Another theme party would be Hollywood. Tell the guests to come as their favorite stars and roll out the red carpet! Have someone be the paparazzi to snap pictures for a keepsake. Serve fancy finger foods and drinks in plastic stemware.
For girls only, you can take your daughter and a few friends to a spa. They can have facials, pedicures, manicures, or whatever. This will make your daughter and her friends feel pampered and grown-up. You could also have a makeover party at a salon, since 13 year olds are very concerned about their looks and need to know the proper makeup application techniques.
Teen Gift Ideas
When kids are little, it is fun to watch them tear into a wrapped present, but at 13 they want to be more adult. Cash is very appropriate for this age because they can spend it on whatever they want. You can get creative by making them follow clues around the house to finally get the loot. Cash can be put inside a balloon, or placed inside a gag gift. Even better, put it inside a small box, then wrap the box, place it inside a slightly larger box, and continue in this manner for at least four boxes.
If you are certain you know what your teen wants, then get it for him or her. If you are guessing, make sure it is not childish. You might consider asking a close friend of your teen if he or she has mentioned anything that can give you a hint. That way you can't go wrong, hopefully. Good luck and enjoy those teen years that are coming up.