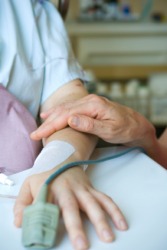 A doctor's pronouncement of "cancer" are among the most dreaded words anyone can possibly hear, but coming up with encouraging words for a friend diagnosed with cancer can be just the lift the patient needs to get them through the long, difficult road ahead.
Chemotherapy, radiation, even surgery, can be used to treat the cancer itself, but if the sufferer's mind isn't in the right place, all the medical help can be for naught.
You can't cure the illness of a friend diagnosed with such a horrible disease. What you can do, though, and what could make the difference between fatalism and despair, and hope to fight on, would be to offer the right encouraging words for a friend diagnosed with cancer.
Just a little time and love invested into the process can help you come up with the right thing to say, and maybe help your loved one over the worst of what's to come.
Let Him Know You're There for Him
A diagnosis of cancer can make the unfortunate victim feel as if he's removed from everyday life. It can be a time of awful, overwhelming loneliness. Sometimes the most moving words the sufferer will hear are the most basic: "I'm here for you. Let me know what you need." Saying that and meaning it may be the most incredibly important act of kindness you'll ever do for your friend or loved one.
Let him scream, shout, punch the wall, shake his fist to the sky, but let him do it knowing you've got his back. He may need to just get his fury and anger out before he can respond to the diagnosis rationally and with his full attention.
Cancer's a tough disease, but it shouldn't have to be a lonely one. Let your friend know whatever he needs, however long it takes, you're not going anywhere without him. Those are among some of the most encouraging words for a friend diagnosed with cancer anyone will ever hear.
Keep Your Sense of Humor
Of course cancer is horrible, but once your friend gets the denial and anger out of his system, he's going to need some cheering up. Send him a cheery card, but even better, make it a funny one. He probably could use a chuckle or two, and sometimes just getting your mind off "the Big C" is the best way to fight it.
If the two of you routinely joke over some incident or anecdote, and you know it always elicits a laugh, be on the lookout for similar type jokes you can relate. Cancer's deadly serious business, but neither you nor your friend will last long if all you do is act as if you're planning a funeral.
You should remember that he is still alive, and where's life, and laughter, there's hope. As long as you both can laugh, it'll give you and the cancer sufferer the kind of cheerful courage a fight like this is going to take.
Encouraging Words for a Friend Diagnosed With Cancer
Look into his cancer, and see if there are things you can do to help. There are always new options and new remedies doctors and scientists are working on, and if you find any for his type of cancer, let him know.
Find out if there are new drugs or perhaps natural type therapies that can help relieve pain or the thousand annoyances a patient can get from chemo or radiation, such as dry mouth or itching. There's always something that can be done to alleviate these type of nuisance side effects. Letting your friend know that his comfort is a high priority will do a lot to reassure him he's not alone in this fight.
Don't Give Up
There will always be bad days with a fight against cancer, but there will be good ones as well. Let your love one know you're there for him, even when he's crabby or in a bad mood.
Let him know you understand. Sometimes just listening anytime, day or night, is the best psychological therapy a patient fighting back against a tough disease can have.