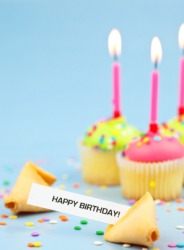 What are some 21st birthday sayings? Some 21st birthday saying are funny, like "You're half way to 42" and others are more serious, like ""Live as long as you may. The first twenty years are the longest half of your life." by Robert Southey. Let's look at some sayings that can be used in cards, on gifts, or as part of a toast for this momentous year.
Some 21st Birthday Sayings
To start our list of 21st birthday sayings, we'll see some sayings and quotes that are on the serious side. After all, becoming 21 means entering adulthood, so it can be a philosophical time.
"At the age of twenty, we don't care what the world thinks of us; at thirty, we worry about what it is thinking of us; at forty, we discover that it wasn't thinking of us at all." - Anonymous
"A birthday is just the first day of another 365-day journey around the sun. Enjoy the trip." - Anonymous
"The man who views the world at fifty the same as he did at twenty has wasted thirty years of his life." - Muhammad Ali
"We make a living by what we get, we make a life by what we give." - Winston Churchill
"At twenty years of age, the will reigns; at thirty, the wit; and at forty, the judgment." - Benjamin Franklin
"Youth is happy because it has the ability to see beauty. Anyone who keeps the ability to see beauty never grows old." - Franz Kafka
"The more you praise and celebrate your life, the more there is in life to celebrate." - Oprah Winfrey
Funny 21st Birthday Sayings
Of course, there are also plenty of funny 21st birthday sayings as well:
"Finally 21 and legally able to do everything I've been doing since 16." - Anonymous
"One of the advantages of being young is that you don't let common sense get in the way of doing things everyone else knows are impossible." - Anonymous
"You are only young once, but you can stay immature indefinitely." - Unknown
"I think age is a very high price to pay for maturity." - Tom Stoppard
"21 is the age of responsibility. Give it a few months and you will be wondering why you were in such a hurry to get here." - Anonymous
"Birthdays are nature's way of telling us to eat more cake." - Anonymous
21st Birthday Parties
Now that you have plenty of 21st birthday sayings, you might want some other ideas for making a 21st birthday memorable:
One thing any 21 year old wants is a great party to mark this step into adulthood. The first thing many people think about is a bar, so pick one that will be a lot of fun, like a disco or nice nightclub.
If you live in a big city, you may want to rent a limo and go in style to several.
Other fun places would be a concert, a spa visit, a hotel (fun for a mystery night), a theme park, or something really wild like bungee jumping or parachuting.
Themes for 21st birthday parties don't have to be just "you're 21 now." Your party could be formal or casual, whatever you like. You could throw a retro party where people dress up, a Las Vegas-themed party, a Hawaiian luau, or even a masquerade ball. Other ideas would be to include a karaoke machine or have a wine and cheese tasting party (or visit a winery). The main thing to remember is to do something that is significant to the honoree.
If the party will include drinking, make arrangements for rides for any party goers who over-indulge. This can be designated drivers, taxis, or extra beds for some to sleep over for the night.