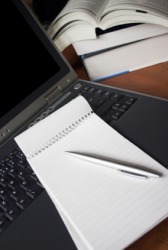 Whether you are assigned a research paper for the first time or you are an old hat at researching and writing, it is important to know and understand the different steps to writing a paper. Like anything else, with appropriate planning and a little bit of hard work, your results may far exceed your expectations if you simply take your time and follow the steps for success.
Steps to Writing a Research Paper
There are several major steps to writing a research paper. While not all of these steps are required every time- for example, you may be assigned a topic and be able to skip the 'pick a topic,' step, most of these steps are important along the way.
Step 1: Pick a Topic
Before you can even begin researching, you need to know what to look for. You want your topic to be neither too broad nor too narrow to cover in the length of the paper you need to write. You will also want to make sure the topic is something you are interested in, and something you can actually find research on. If your topic is too esoteric, you may find yourself struggling to find sources online or at your local library.
You can pick a topic by brainstorming ideas, and then doing some preliminary research to make sure that information exists on the topic and that the scope of the topic is appropriate for your paper. Brainstorming may involve just sitting down and jotting ideas, or you may want to use a more structured form of brainstorming in which you draw a mind map or use clustering.
Step 2: Do Your Research
Once you have selected a topic, it is time to do your research. The web is a great starting point, and in many cases may be sufficient to provide you with all the information you need to write a great paper. When using internet sources, be careful to make sure they are authoritative. Your professor may not be happy if you turn in a research paper and cite your next door neighbor's blog as the main resource you used to write it. Sites that end in .edu, .gov or .org are a great place to start.
Old fashioned books are also invaluable sources of information, and your local librarian can help you peruse the collection or card catalog if you don't know where to look. Most libraries have their collections indexed online now anyway, so you may be able to still do much of your work over the internet.
Regardless of whether you use print or internet sources, make sure you keep track of where the information is coming from. Keep your research organized by topic or subtopic for your paper, but note which source each individual piece of research comes from. Write down all possible information you may need about your source to cite it correctly, whether you are using APA or MLA format.
Step 3: Draft Your Outline
Before you begin writing, you'll want to outline what you are going to write about. Create an outline that highlights the thesis of your paper and the topic heading of each paragraph. Include note to yourself in the outline about which research points you are going to use in each paragraph. Make sure the ideas flow smoothly and that your thesis is supported and explored in each paragraph.
Step 4: Write A Draft
Using your outline, write a preliminary draft of your paper. Few writers can sit down and write something perfect the first time around, so this is your chance to make mistakes and errors and still produce a great final product. Work from your outline, and make sure you attribute anything you are putting in your paper to the appropriate source.
Some research papers require in-text citations, which means that you must attribute ideas right in your paper. For example, you might write "According to Your Dictionary.com, the definition of…" or you could write "The definition of…" (Your Dictionary).
Step 5: Revise and Edit to Produce a Final Product
The last step is producing your final product. You'll want to revise and edit your draft for content, structure, clarity, spelling and grammar. Make sure your paper is free of errors, and don't count on spell-check to catch every detail. Make sure all of your citations are correct, and that the paper is formatted properly.
Don't forget to include a works cited or bibliography page. This is where you will show off all of the great research that you did by listing the sources you used. Follow the appropriate format as instructed by your professor for the citations and works cited page to ensure that your research paper is formatted correctly and well received.