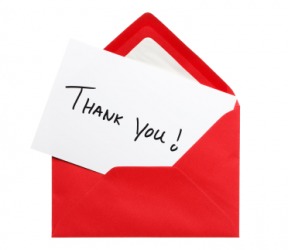 You received a lovely gift for your birthday, or were pleasantly surprised by a lavish wedding or anniversary present; the first thing you have to be thinking, once the gift wrap and bows are in the trash is what thoughtful words for a thank you card you can come up with.
Of course thank you cards aren't just required for a gift. There is a myriad of reasons why you should be quick to drop a note in the snail mail: a dinner invitation, a weekend invite to a friend or relative's vacation home, a pal who picks you up after a stay in the hospital. It demonstrates good breeding and the right manners, but more importantly, it demonstrates how thankful you are for a good turn done for you.
Even more, thanking someone for a favor or a gift makes them more likely to perform the same kind act for someone else. This is one of those instances where doing the right thing has a ripple effect for those you are thanking, and for you as well.
Thoughtful Words for a Thank You Card
What are the best things you can say? How can you put your gratitude in words that sound natural and sincere, but express the appropriate degree of formality that the situation requires?
Say your child has a birthday party, and she's old enough to be a "hostess" to her friends and relatives, including aunts and uncles. As she opens her gifts for the crowd, she thanks the gifters for thinking of her and working so hard to get her something she'd enjoy.
That isn't all you should do. This is a fantastic opportunity for your child to learn the basics of etiquette. Get her some preprinted thank you cards, something appropriate for a child to send. Have her add a line or two, specifying the particular gift of the person she's thanking, and let her say in her own words how grateful she is for their thoughtfulness.
This is a very polite thing for your child to do, and you will have helped her learn a valuable lesson.
Gratitude for Adults
One might think that adults would already know the importance of thank you cards, but as society gets more and more casual, some people have let the habit of thanking friends and family slip by the wayside.
Another debate is whether a verbal thank you is enough (sometimes it is, often, it isn't), or whether a thank you email will do the trick.
It really doesn't get you off the hook. People do like to see that you took some time and effort to give them thanks in a traditional way. Sure, email is easier, but doing the right thing may not coincide with doing the easiest thing.
Don't just push it off, or think that people will forget or understand. They might, but they might also be hurt by your neglect. Do you really want to reward people who give you gifts by not thanking them for their efforts?
Finding the appropriate thoughtful words for a thank you card is important. Make the time to do it right.
Speak From the Heart
You don't have to write an etiquette editorial to do justice to the friend who honored you with a gift. Tell the person how happy you were with their thoughtfulness and kindness. Make sure you mention specifically what it is they did or gave you (otherwise they might get the impression this is a rote writing task for you.)
If you loved the gift, or enjoyed the weekend getaway, or had a ton of fun at dinner, say it! But if the gift was tacky, the getaway uncomfortable, or the dinner awful, focus on how much you enjoyed being with them, and how grateful you are for the energy they put into the gift.
The words will flow, and before you know it, you will have engineered the perfect thoughtful words for a thank you card.