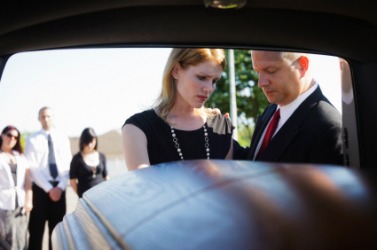 One of life's saddest occasions is the passing of a loved one, and almost everyone finds it difficult to find the right words to say at a funeral service. It's hard to avoid being trite, because after all, everything that could be said has probably already been said, and you're left feeling bereft when the right words escape you when you're trying to comfort the friends and family members. Plus, suppose the loved one is someone you knew or were close to, and the family has asked you to give your own personal eulogy at the funeral? That's enough to get anyone in a tizzy! How do you know what to do? What are the right words to express how much the person meant, and how important he was while he was here?
The Right Words to Say at a Funeral
It isn't very difficult to find the words, if you let your sentiment, feeling, and memory be your guide. Let's assume for a moment you are simply a guest at the funeral, and you've come to the funeral home to pay your respects for the dead, and to do what you can to provide comfort and solace to the family.
The best thing in this case is to express your condolences as simply as possible. "I'm so very, very sorry. He was a wonderful man" if you know the deceased. If the person was, say, a relative of a friend, and you're attending the funeral to give support for your friend, you might say how sorry you are, and then, "Fred had nothing but good things to say about his Uncle John. He had a huge impact on his life, and he loved his uncle dearly."
Shake hands, give a hug, and show your support. You absolutely cannot go wrong by keeping it simple!
What to Say For a More Formal Eulogy
Now this is where people get really tongue-tied. What do you say if you're asked to get up in front of the mourners and say something about the loved one? Should you write something down first, and read it off the paper? Or should you just "wing it"?
There are good arguments to be made for both sides of that discussion when it comes to the right words to say at a funeral.
You may want to write up a few memories or key phrases to jog your memory, and then take it from there. The beauty of this approach is that it's natural, and your words will be from the heart, but since you've got some key points written down, you won't suddenly draw a blank and come to the dreaded "uhhh...uhhhh..." moment most people fear with any type of public speaking.
So can you just write a speech and deliver it? Of course, but you should know that reading something off a piece of paper can sound cold and stilted, and you don't want the memories of your dedication to your friend to sound as if you were reading a term paper.
On the other hand, doing the entire eulogy from memory with no help at all is something an actor or news anchor could do with aplomb. You may well have a gift in this direction. For most people, though, it's a guarantee of at least a few "what was I saying?" moments.
What Should You Tell People?
Put together a few anecdotes, a few recollections of fun times with the deceased, times you had that were funny and memorable. Anything that humanizes the loved one and opens the door to the mourners' fond memories of his life will be very well received.
What Should You Avoid?
Now is not the time to recall any family feuds or angry moments. Also avoid any off-color stories, no matter how funny you may think they are, even if the deceased would've laughed out loud.
You want to sound natural and warm, but there's a point where being "too familiar" can just put people off.
Remember, you want the focus to be on the life and character of the dearly departed - not on a story you told that will make everyone remember you, and not in a good way!
Find the right words to say at a funeral, and you'll do the departed the justice he deserves.