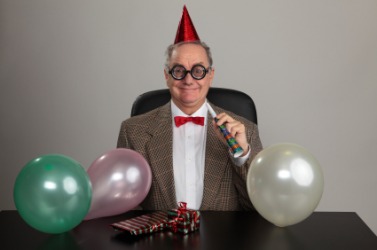 Retiring permanently from the workforce is one of the milestones of a person's life, and such an important marker of achievement deserves just the right words of congratulations for a retirement. The retiree may be a fellow employee; it could be your spouse, or a family member, or even someone who works for you. Guaranteed that person has many mixed feelings about dropping out of the world of work, because such a significant event is also the harbinger of aging and the golden years. It's not easy to make such a massive change in one's life without at least a few qualms. The right words of congratulations for a retirement, though, can do a light to smooth the way for many happy and fulfilled years to come.
Preparing Words of Wisdom for Retirement
Here might be the opportunity for you to take your cues from the incipient retiree. Some people are absolutely overjoyed at the thought of retirement. They've been planning this for years, and far from languishing in a rocking chair, they've got their retirement all planned to the last detail.
Long trips with the grandchildren, sailing around the world, or parachuting from a plane, these are the active, alert, and youthful people who make retirement a joy to behold. They cannot wait for it to begin!
These folks are easy to congratulate. They make it easy, because they have no hesitation at all about embarking on the next chapter of their lives.
Other people, though, have a much harder time with it. It may be because with a tough economy, their retirement income isn't what they thought it would be. Or they may be so vested in their career that they feel momentarily lost at the idea of not having to get up and go to work every day.
Play It Delicately
The people who will miss their fellow workers, or who can't envision life without their job, are going to have a tougher time of it. These are not the people who need jokes about getting old, dying, the need for Viagra, or other signs of impending decrepitude.
In other words, take it easy on them. That's just the right thing to do.
The Right Words of Congratulations for a Retirement
They aren't hard to find. Take the hint from the retiree. If they are thrilled at the idea, a hearty congratulations may be all that's necessary. If they are ambivalent, then let them know how much you'll miss them, and try to find out what their plans are for the future.
They probably have some thoughts that are pleasant for what the months and years ahead will hold, and steering them into that territory will yield a pleasant conversation for you both.
The Gift of Books
If you feel you need something a little more concrete to give to the retiree, think of a trip to the bookstore. A book on any of their interests or hobbies - woodworking, crafts, travel to exotic locales, cooking lessons - will all stir up the creative juices and give them something to start thinking about.
Make sure you write a note on the flyleaf of the book, with the right words of congratulations for a retirement, since it is such a significant, life-altering event.
Let them know how work just won't be the same without them. They'll appreciate your kind words enormously.
For the Spouse of the Retiree
How about a book to let your husband or wife know how happy you are that you'll be spending your retirement years together? It's not easy for couples to spend so much time together, maybe when they have never done such a thing. By all accounts, there's a huge period of adjustment involved... but it doesn't have to be a bad thing, and if the retiree and spouse have planned for the event, it can be the best years of their lives together.
Now might be the right time for that book on what the future will hold. Perhaps some travel brochures, or maybe even a trip to a retirement community in a warm, sunny climate.
There are tons of things to do - now is the time the retiree will love to hear it, and that you're so happy you've spent your lives together, with only more joy to come!