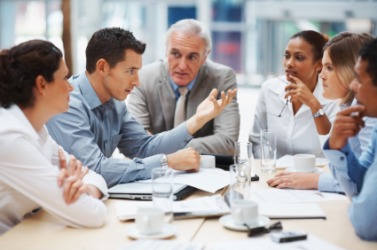 Corporate buzz words have filtered into common parlance, and it's little wonder. We're so inundated with the corporate theory of how life should be conducted that the jargon has become part of our everyday language.
Jargon that is peculiar to a particular business is now being used by non-specialists in the field. Words that once had a precise meaning aren't used in the manner for which they were created.
This can be hazardous, because many corporate buzz words have an intentionally unclear meaning. If precision is important, using specific business lingo probably isn't the best way to frame your ideas in those words.
Workplace Empowerment
Buzz Word: Empowerment
One of the corporate words that has filtered out into the larger society is "empowerment." It would seem to have a precise meaning, but that often isn't the case.
By its very nature, the opportunities for true worker empowerment, or the ability to fashion their own workplace, is obviously limited. It involves replacing the traditional boss-worker structure with self-managed groups. The worker then becomes the subject of his peers, so the chances of any true individual empowerment are very limited.
Leveraging the Language
Buzz Word: Leverage
In the past few decades, leveraged buyouts have become the stuff of legend. Many people have lost money in such transactions, but the word "leverage" has enter the general language.
The actual genesis of the word "leverage" harkens back to the days of ironworkers and carpenters. If you wanted to move a heavy object, you'd use a lever as a wedge under it. Now you can use language as the wedge to "leverage" the meaning of your words.
Now people speak of leveraging their relationships, their children's futures, and even their own lives. A financial term has been expanded to include many things that haven't a thing to do with business.
More Corporate Buzz Words
Buzz Word: Ballpark
Another common word you'll hear everywhere is "ballpark." Is an estimate in the ballpark? How many people showed up at the picnic? What's the ballpark on it?
Buzz Word: Bottom line
The "bottom line" used to be an accounting practice. Now it means the final result, after everything is said and done.
Suppose you go out to dinner and order a steak, dessert, and several glasses of wine. What's the total cost of your meal? Or you could say "what's the bottom line?" and your waiter would know exactly what you meant.
Being On the Inside
Buzz Word: Incentivize
You have to keep your ear to the ground to be kept in the loop. If you want cooperation, you have to "incentivize" your efforts so your pals will do as you want.
Buzz Word: Technology
Another huge buzz word is one that is practically inescapable, and that word is "technology." It used to be what scientists devised and businesses sold. Now it's gone out from the assembly line into the language so that practically everything is "technology-based."
Want to sell people stuff they don't need? How about if you just invented the latest face cream to stave off aging? Just fit the word "technology" into your advertising, and watch sales skyrocket!
The sheen of the word "technology" seems to be enough to draw customers. It's also hugely helpful if the company selling the product doesn't make a huge issue of the specifics of how and why this product will make you look 20 years younger.
It's "technology," isn't it? The word has almost assumed the power of being its own religion. This is just one more example of the buzz words with which the language is inundated.
Prioritize and Proactive
Buzz Word: Prioritize
Buzz Word: Itemize
Buzz Word: Proactive
Buzz Word: Putting Them to Bed
Are you making a list and checking it twice? You have to prioritize and itemize, and then become proactive in ticking the items off the list, or in corporatese, "putting them to bed."
Buzz Word: Push the Envelope
Buzz Word: Paradigm Shift
Just try to "push the envelope" without causing a "paradigm shift." It's next to impossible!
Buzz Word: Results Driven
Buzz Word: Synergy
If you think the ends justifies the means, you might be a "results driven" executive of a big company. If you desire "synergy" among your staff, don't consult a dictionary. The original derivation of the word is a contraction of "synthetic" and "energy"!
Buzz Word: Straw Men
Blame the "straw men" for this surge of corporate buzz words. They don't exist, just as much meaning doesn't exist in these word crutches that often are an impediment to clear thought and precise language.