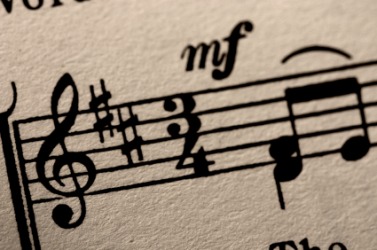 Reviewing a list of musical terms will not teach you how to play the flute or the drums, but it will help you to get acquainted with some phrases and words that you will hear in the music field.
List of Musical Terms
The following list of musical terms, provides definitions to accompany these terms to help you determine the meaning behind the words. Now, go on and read about the different musical terms so that you can sharpen your knowledge!
Acapella: Vocalist(s) performing without accompaniment from instruments
Allegro: An instruction to play quickly
Cadence: A sequence of chords that signify the ending of a phrase
Cantabile: A style of singing that is both light and flowy
Cantata: Music that is often religious and is written for a chorus or orchestra
Carol: Hymn or song for Christmas
Chorale: A hymn that is most frequently sung by both the choir and the congregation together
Clavier: The keyboard on a string instrument
Consonance: A group of tones that are in harmony when played together
Contralto: Name for the lowest singing voice for females
Dynamics: Refers to how loud or softly a piece of music is to be played
Energico: A symbol that appears in sheet music which instructs the person to play energetically
Fifth: Interval between two notes
Form: The structure of a musical piece
Fugue: A composition which is written for three to six voices
Grazioso: Word that indicates that a piece of music should be played gracefully
Instrumentation: Refers to the way that instruments are arranged for music when multiple instruments are being used
Interval: Distance in pitch between two notes
Key signature: Flats and sharps at the beginning of each staff line which indicate the key that should be played
Libretto: The book of text for an opera
Maestro: Name for a great composer, music teacher, or conductor
Mezzo: Voice between soprano and alto
Modulation: Shifting to another key
Monotone: The repeating of a single tone
Nonet: A musical composition that is written for nine instruments
Operetta: A short and light musical performance
Oratorio: A long cantata regarding a sacred subject
Ornaments: Tones that are used to dress up the main tone of a work
Parody: A composition that is based off of another composition
Piano: Yes, of course, a piano is an instrument, but did you know that it is also an instruction in sheet music to play softly?
Pizzicato: A string instruments that is played with a pick as opposed to a bow
Presto: A direction in sheet music which states that the music must be played very quickly
Reed: Refers to the piece of cane in wind instruments
Rigaudon: A 20th century dance which is written in double time
Septet: Seven musicians who compose a piece for seven parts
Soprano: The highest female voice
Suite: Collection of instrumental pieces
Timbre: The quality of sound which distinguishes one tone from another tone
Tonic (Also known as keynote): First tone of a scale
Waltz: A dance that is written in triple time
Depending upon what time of music you are planning to get into, you might find a whole slew of other definitions that you will have to learn to become a master of your field. However, this list of musical terms will give you a substantial knowledge base for whichever musical direction you decide to pursue.