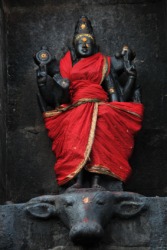 Would you like a list of English words of Hindi or Urdu origin? If so, this article will give you one along with some information about the Hindi and Urdu languages.
List of English Words of Hindi or Urdu Origin
You can find a list of English words of Hindi or Urdu origin among the many lists at Wikipedia. Here are a few Hindi and Urdu words that have made their way into the English language:
Avatar = incarnation
Bandanna = a head scarf
Bangle = a bracelet
Bungalow = type of house
Calico = cloth made of cotton which usually has a colorful pattern printed on it
Cot = portable bed
Cummerbund = piece of material worn around the waist
Cushy = soft, happy, easy
Guru = teacher or spiritual guide
Jungle = forest or wilderness
Karma = things you do
Khaki = a grayish tan color
Loot = to steal
Pajamas = leg garment
Shampoo = massage, knead the muscles
Thug = thief, trickster
Verandah = courtyard
Yoga = an Indian mental and physical practice
Hindi and Urdu Languages
Many Hindi and Urdu words have Sanskrit roots. Hindi is a blanket term for many languages and dialects spoken in Pakistan, India, Surinam, Fiji, and Mauritius. Urdu is one of the two national languages of Pakistan.
The main differences between Urdu and Hindi is that Hindi got much of its vocabulary from Sanskrit, where Urdu drew words from some other languages, like Persian, Turkish, and Arabic. These differences, however, are not great, so most linguists consider the two languages to be versions of the same language.
Sanskrit is the official language of Uttarakhand, a state in northern India. It is one of the oldest languages on earth, being the language of the Rigveda, and dating back to 1500 BCE.
India and Pakistan
Since you have a list of English words of Hindi or Urdu origin, maybe you would like a little information about India and Pakistan where they are spoken.
India is called the Republic of India, and is found in South Asia. It is the most populated democratic country in the world with over a billion people. Its land borders are China, Nepal, Pakistan, Bhutan, Burma, and Bangladesh. Its water borders are the Indian Ocean, the Bay of Bengal, and the Arabian Sea. North of India are the Himalayan Mountains, the tallest on earth and home to Mount Everest.
Pakistan is a country that borders India on the northwestern side and is officially known as the Islamic Republic of Pakistan. It is bordered by Iran, Afghanistan, India, and China. Water borders are the Gulf of Oman and the Arabian Sea.